If you're a mom, you know that there are times when you need to get things done and can't just hold your baby all day. That's where a baby swing comes in handy! In this post, we'll share with you our picks for the best baby swings on the market. So whether you're looking for a basic model or something more luxurious, we have you covered.
Our Picks
What is a Baby Swing?
A baby swing is typically a seat moving your baby's side to side or back and forth. Unlike a baby bouncer which vibrates at a small angle, a swing, usually powered by electricity, features the movement of different speeds and angles. It is designed for babies before six months who can't sit up yet.
Best Baby Swings
Graco Simple Sway LX Baby Swing, Teddy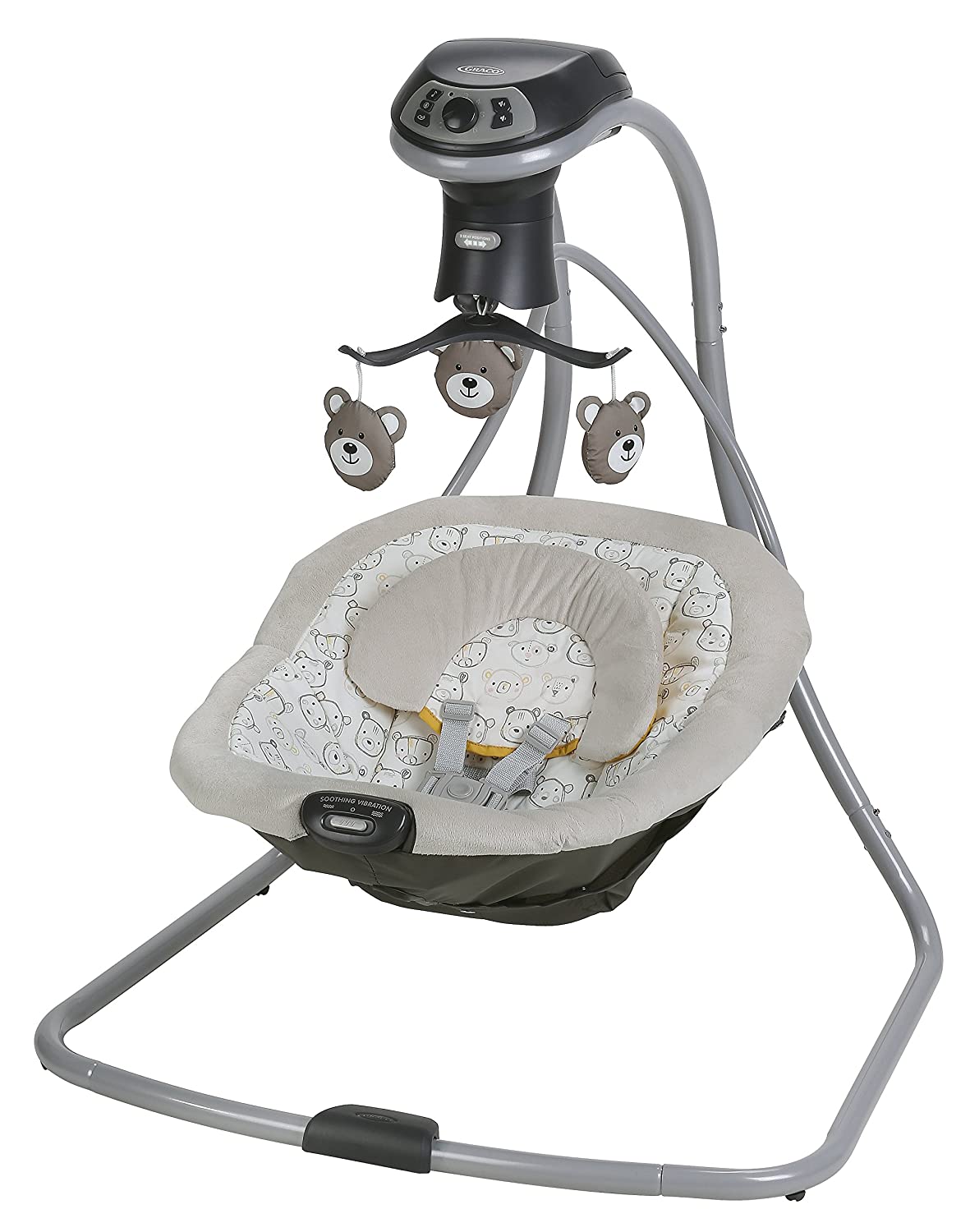 The Graco Simple Sway LX Baby Swing is designed in a narrow metal frame that is sturdy but fit for small rooms. It has a 5-point harness and head support to secure babies on the swing. It features 15 songs, 5 nature sounds, and multiple direction seats with 6 swing speeds to soothe. It can be both battery-powered and plugged in. Some may find a little noise when it is working but it is acceptable to most people. For newborns, you had better add a head stabilizing pillow on the swing as many parents found the padded head support too thin to support a tiny little one.
Fisher-Price Sweet Snugapuppy Dreams Cradle 'n Swing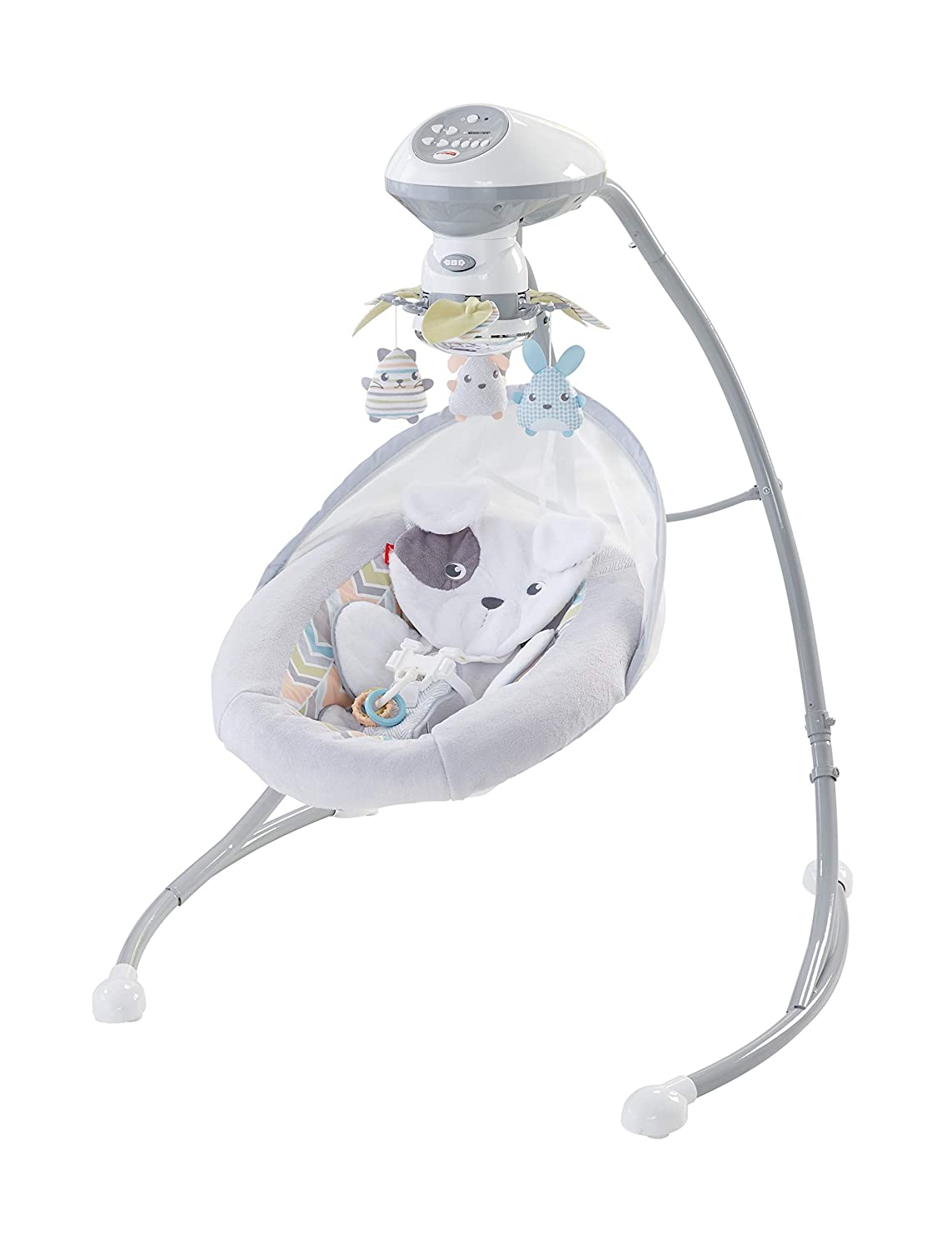 The Fisher-Price Sweet Snugapuppy Dreams Cradle 'n Swing is one of the most popular baby swings on the market. It has a hefty and sturdy base. It's a pro to someone who doesn't mind the space issue but a con to those who do. The swing features 2 ways to swing, 6 swing speeds, easy conversion of swing direction with one button, and 16 songs and nature sounds. Like other baby toys of Fisher-Price, it has hanging accessories and mirrored dome to entertain babies.
It is a nice pick for newborns. First of all, it has 2 recline positions fit for the spines of newborns. Secondly, It has a cozy plush padded seat that supports the head and body of newborns well. What makes it even more amazing is that it is machine washable. If we are picky about it, it required batteries even if it is plugged in and it takes some time to get it assembled.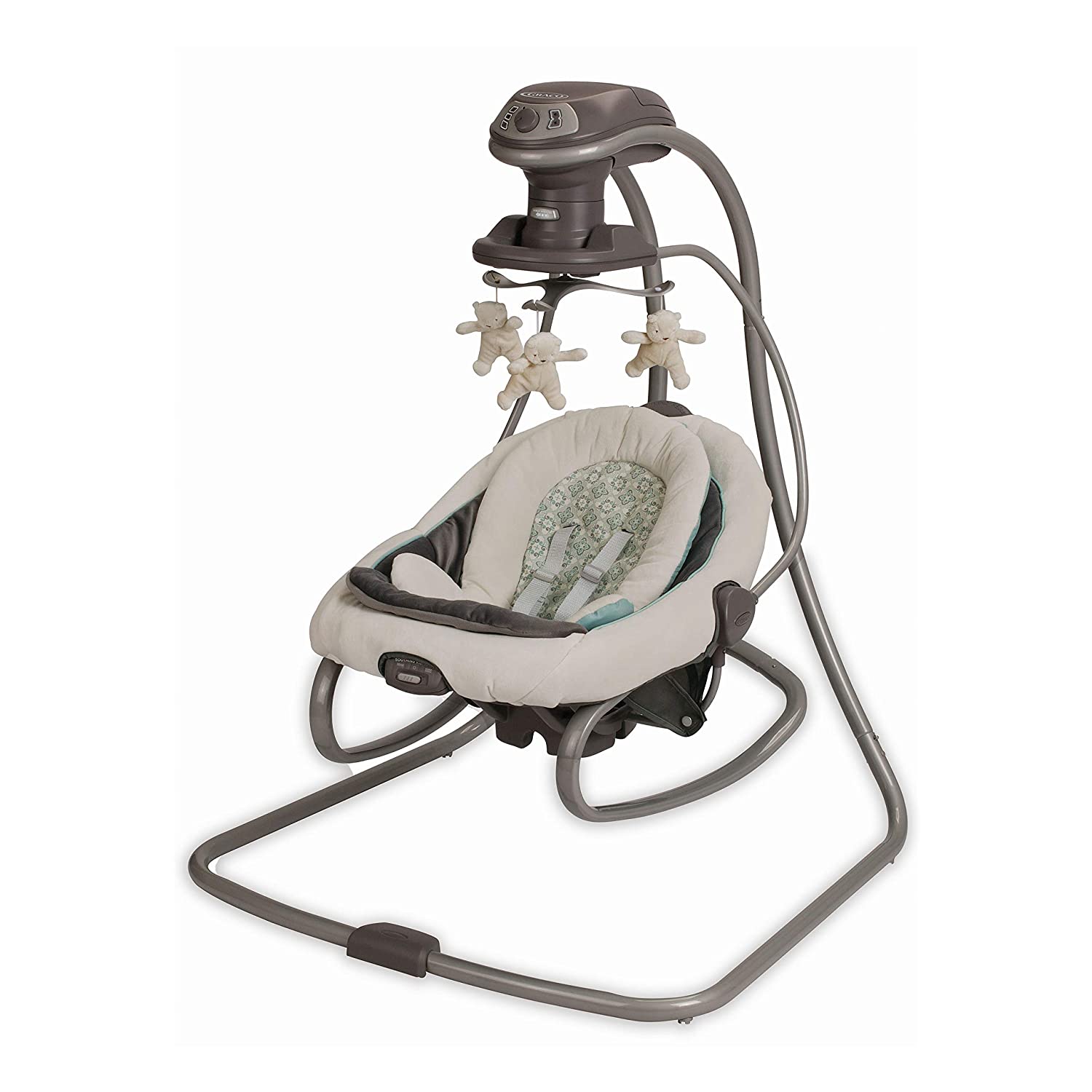 This one is sort of an upgraded version of the Graco Simple Sway LX Baby Swing. It has all features of the Graco Simple Sway LX Baby Swing. It is not only a swing but a portable rocker as well. When babies doze off on the swing, you can remove the seat, transitioning it from swing to rocker without waking them up. The assembly is more difficult than the above-mentioned version. With increased hours of usage, the noise grows a little bit louder. However, usually, before the noise becomes unbearable, the swing has completed its mission and you won't need it anymore.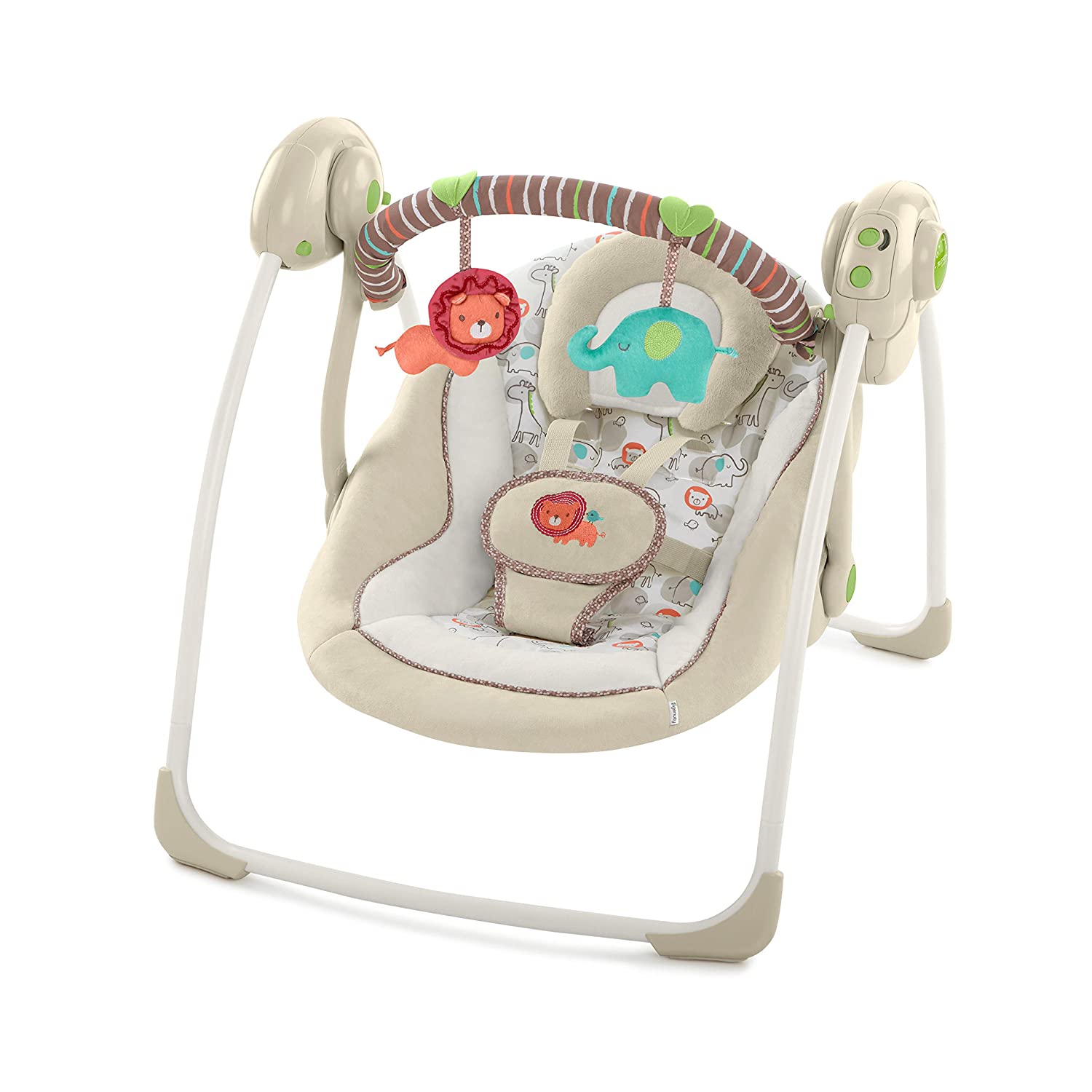 This one is the best in terms of probability and affordability. Charged by batteries only, it is lightweight and foldable making it convenient to take out to grammy's home. It not only fits in small apartments but also has compact storage. It features 2 recline positions,6 swing speeds, and 6 original melodies. Compared to other swings on the market, it costs only half the average price. What's more, the assembly is super easy. The machine-washable seat pad can be easily rid of the swing. The maximum weight recommendation of this swing is 20 pounds, slightly lower than normal swings, which is an inevitable sacrifice for its convenience.
4moms mamaRoo 4 Baby Swing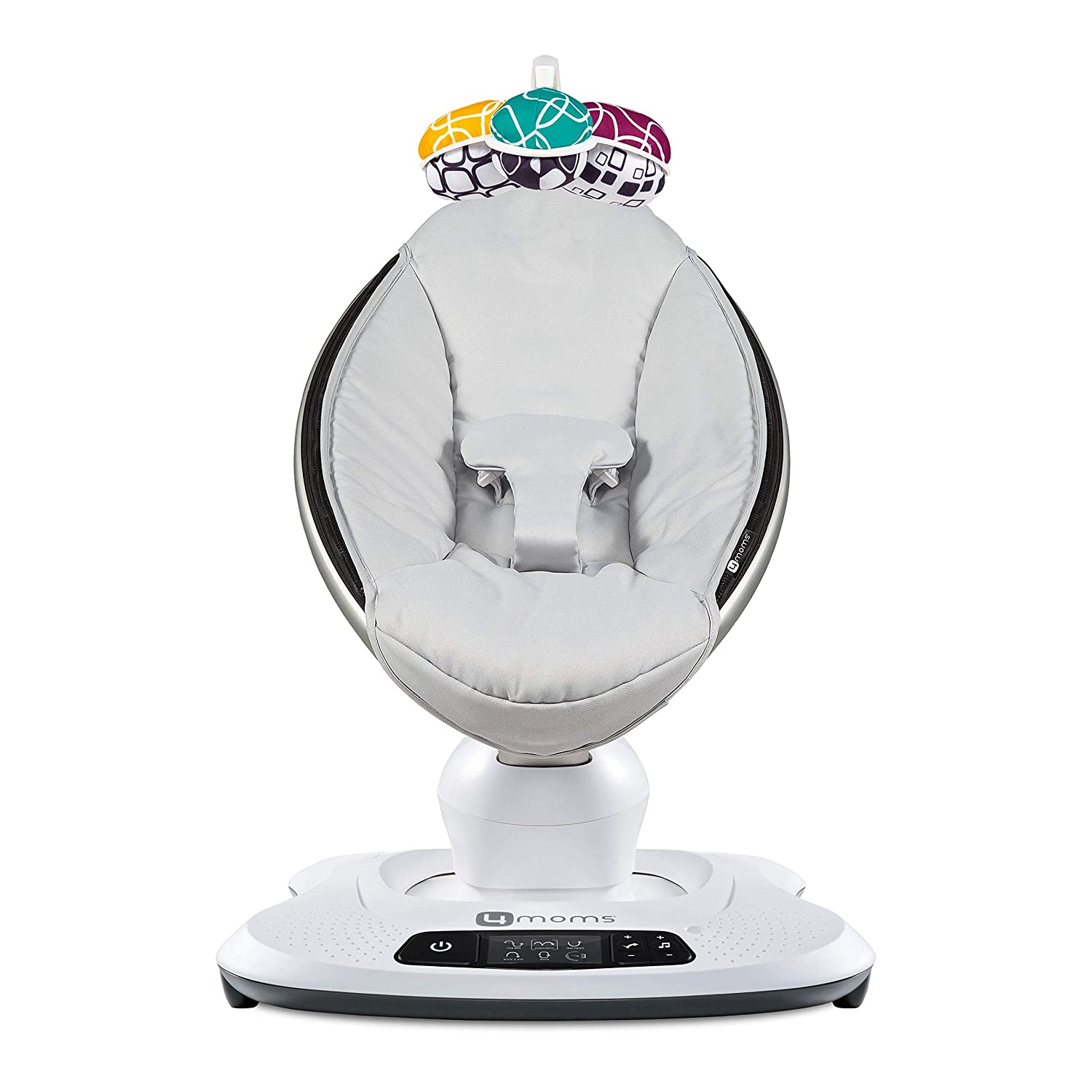 The comments for 4moms mamaRoo 4 Baby Swing are rather polarized as its expensiveness might lead to over-expectation from customers. As a baby swing, it is compact and sleek. It has 5 motions, car ride, kangaroo, tree swing,rock-a-bye, and wave, trying to imitate swaying parents with adjustable seat recline and speeds. It also supports an MP3 plug-in and blue tooth with which you can control all movement and sounds on your phone. The hanging toy balls and the seat fabric are both removable and machine washable.
It doesn't require batteries but you have to place it near the outlet as the wire is a bit short. Some owners reflected on durability issues. In conclusion, it is an expensive fragile high-tech big toy. If you don't have any budget concerns, it is a pick.
Do You Need a Swing?
You would probably find the below situation very familiar. The moment you place your tranquil baby down, they change their face and get annoyed and unhappy.
Even if you would like to hold your baby in your arms all the time, we both know it is not practical. If you are a working mom, you would like to strive for much more time to focus on something. Let alone you have to spare your hands-free to make yourself food or take a quick shower.
A swing offers another place you can place your baby down except a bassinet or crib. You can peek at them from time to time to guarantee safety. The swaying swing and the hanging accessories can help distract, entertain and soothe babies. Let mommy grab a second for herself.
What to Consider when Picking a Baby Swing?
Size: Swings come in different sizes. If you live in a small apartment with limited space, you had better choose a compact one. Otherwise, sooner or later, you would run out of space with toys, bottles, blankets, and a stroller scattered everywhere.
Energy: It's a choice of personal preference as well. A battery-powered swing can be taken to different positions and the plugged-in one avoid easily worn-out batteries. There is some portable kind of swing driven by manual power as well. If you don't need an extra workout, you won't like it.
Ease of washing: Babies have spit-up incidents or diaper blowouts almost every day. If you can take off the whole fabric piece and get it clean just by throwing it into the washing machine, you will feel relief from worrying about getting it dirty.
Frame construction: It's a matter of safety. The metal frame is sturdier than the plastic frame in general. If you go with a plastic one, you should check whether the product was tested before, and the maximum weight it can hold.
Price: The last but not least, the price. You might be saving money for the future education of your babies or other purposes. There is no need to crash your bank on a baby swing. Choose one within your budget.
Summary
Baby swings are a great tool to have in your arsenal as a parent. They can provide much-needed relief when you need it and give your baby some much-needed stimulation. If you're feeling overwhelmed by the options, our top pick is the Graco Simple Sway LX Baby Swing. It's sturdy, has a narrow frame so it doesn't take up too much space, and comes at an affordable price. But if you're looking for something with more features, check out the Fisher-Price Sweet Snugapuppy Dreams Cradle 'n Swing – it rocks and sways back and forth as well as side to side. Whatever swing you choose, make sure to read the reviews before purchasing to get an idea of what other parents think. And always be sure to follow all safety instructions!