Babies usually spend less time sleeping and more time playing after puerperium. In their waking moment, you can put them in a baby lounger, swing, or baby activities center to keep them safe within your supervision. Meanwhile, you can grab a few seconds free-handed to do your own things. Most likely after five or six months, babies are opted to roll more often and always struggle to sit up. They are no longer satisfied with limited space for activities. Their curiosity leads them to do further exploration. Then it is time to introduce pack n play.
Our Picks
Best for budget: Graco Pack 'n Play Portable Playard, Aspery
Best overall: Graco Pack 'n Play Simple Solutions Playard
Best for outdoors: Summer Pop 'n Play Ultimate Playard
Best for ease of usage: 4moms Breeze Plus Portable Playard
Best for travel: BabyBjörn Travel Crib Light – Black
Best for travel: Guava Lotus Travel Crib
What is Pack n Play?
Pack n play is also known as a play yard, or playpen, which is usually framed enclosure that has a mesh fence. The pack-n-play is designed for babies less than 35 inches tall to freely roll and play in a safe area. You can also leave several small toys on it for them to entertain themselves.
The 6 Best Pack n Plays and Play
Graco Pack 'n Play Portable Playard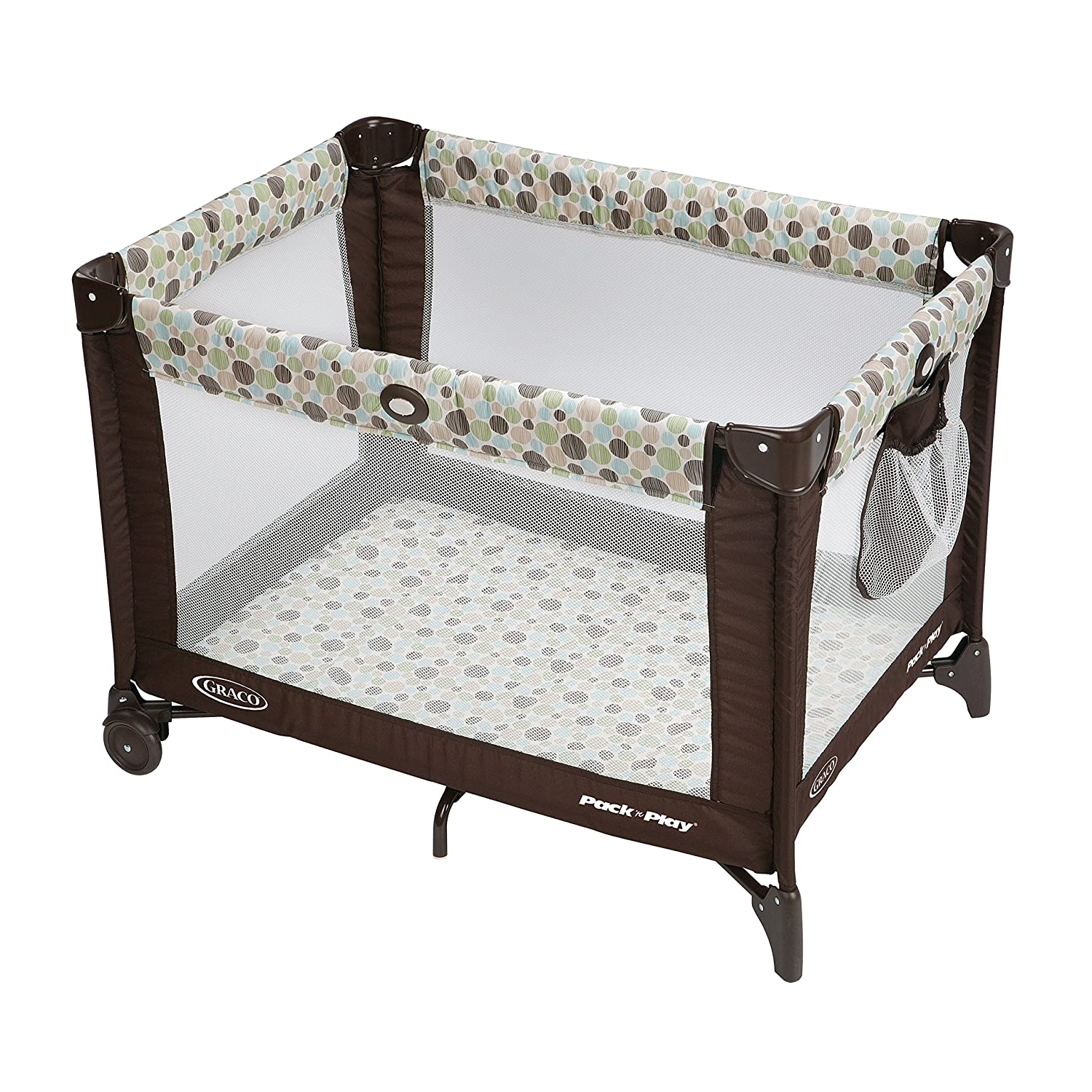 The Graco Pack 'n Play Portable Playard has been topping the lists of goodies recommended by mom blogs. It is simple, classic, and comes in for praise for all its features. Firstly, it has a sturdy and durable frame and a mattress. Babies can have fun or take nap in it. If they become sleepy, you can just wheel the whole play yard back into the bedroom. Its walls are made of breathable mesh, in which you can get viewing access to your babies easily when they are playing or sleeping. Secondly, the play yard is foldable. You can compact it via a button push and pack it into a storage bag. Everywhere you go with your babies, you can take it. It also behaves well in detail. There is also no need to worry about spit-up accidents as its fabric can be easily wiped clean. At the end of the play yard, there has a built-in storage bag for cream, diapers, and wipes. Last but not least, it is cheap. It is worth the price even if you just buy it to leave at grandma's house.
Graco Pack 'n Play Simple Solutions Playard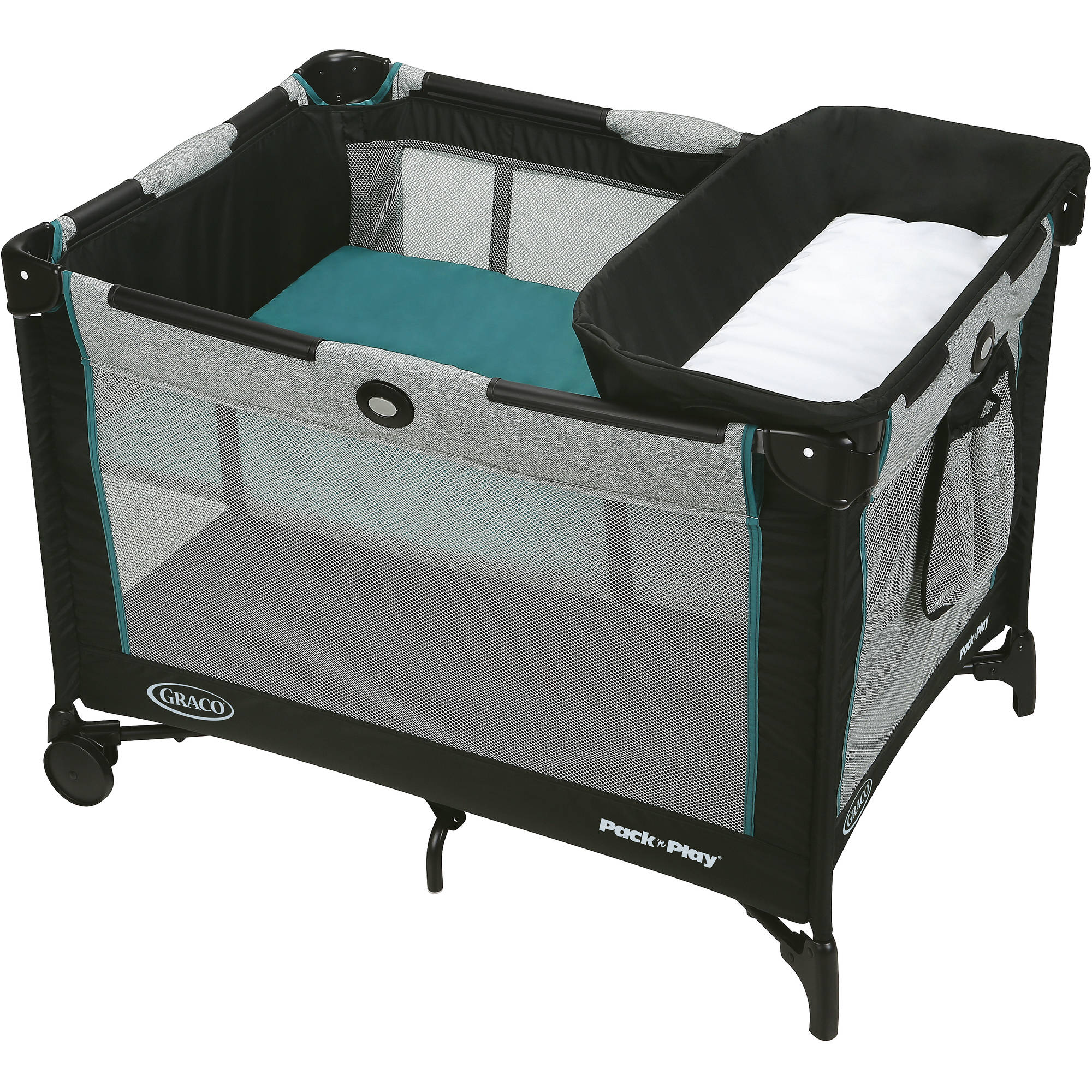 Compared to Graco Pack 'n Play Portable Playard, the Graco Pack 'n Play Simple Solutions Playard not only has all its redeeming features but more functions. It has a removable bassinet and a changing station inserted on the upper level so that you don't have to bend down your waist to move your baby or change a diaper. As most moms suffer from back pain for a period after labor, it can make nursing much easier.
Summer Pop 'n Play Ultimate Playard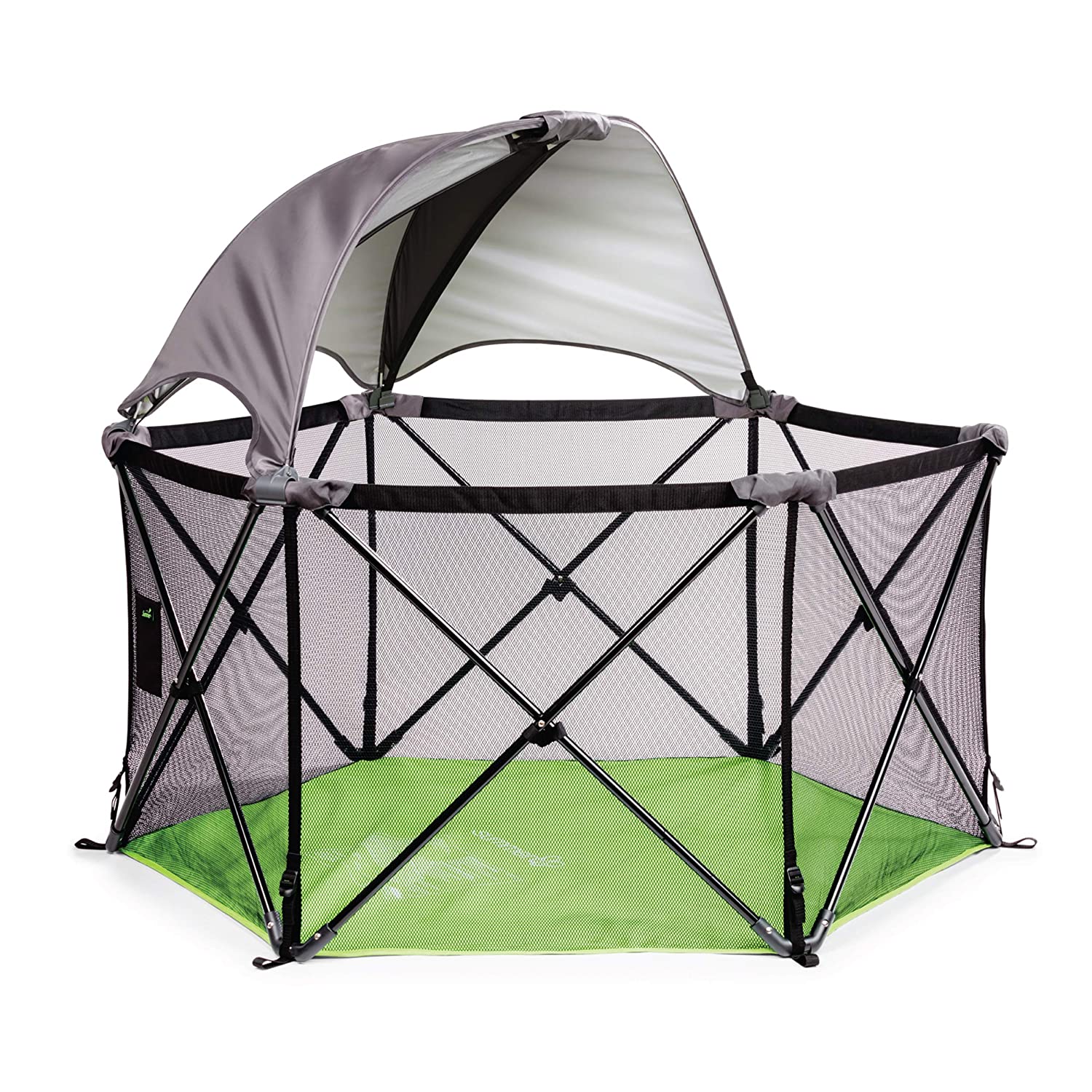 This play yard is designed for both indoor and outdoor use. It excels in outdoor play yards for reasons. Firstly, it is ultimate lightweight and the whole item has mere 12 pounds. It can be set up and unfolded by oneself in seconds. Secondly, the floor is made of waterproof canvas so you can take it to the beach or public lawn. The walls are made of breathable mesh and babies can enjoy the breeze outdoors. It comes with an optional supplemental canopy which provides UPF 50 protection.
The canopy is nice to prevent babies from the harmfulness of ultraviolet rays. Thirdly, it has ample space to contain more than one baby. What a perfect place to arrange playdates for several babies! Here we mention the downsides as well. The play yard does not include a mattress. The bottom floor might not be comfortable on some grounds. It is suggested to add pool noodles or pipe insulation foam on metal tubes by more than one parent.
4moms Breeze Plus Portable Playard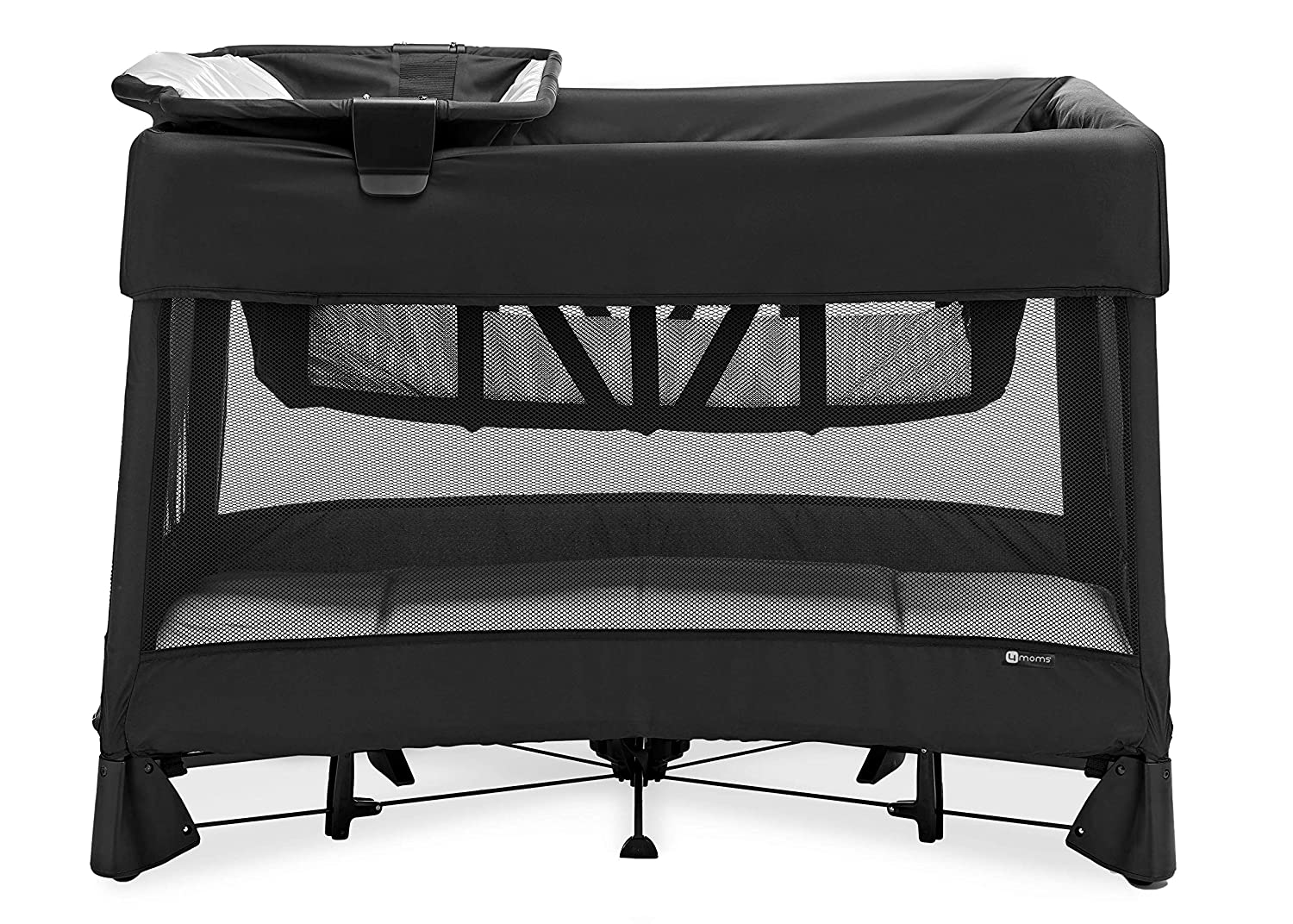 Products from mamaRoo always look chic, and so does the 4moms Breeze Plus Portable Play yard. Its black and white minimalist design is cool and versatile in variable home styles. It is recommended for its on-pull close, one-push open as advertised. By far it is the easiest to assemble. It comes with a mattress, removable bassinet, and diaper changing stations, which satisfy your different needs during daytime nursing. When you are taking care of yourself, you can still lay an eye on your baby through the visible walls. This play yard has no wheels and it weighs 28.5 pounds. It is more of a choice at home.
BabyBjörn Travel Crib Light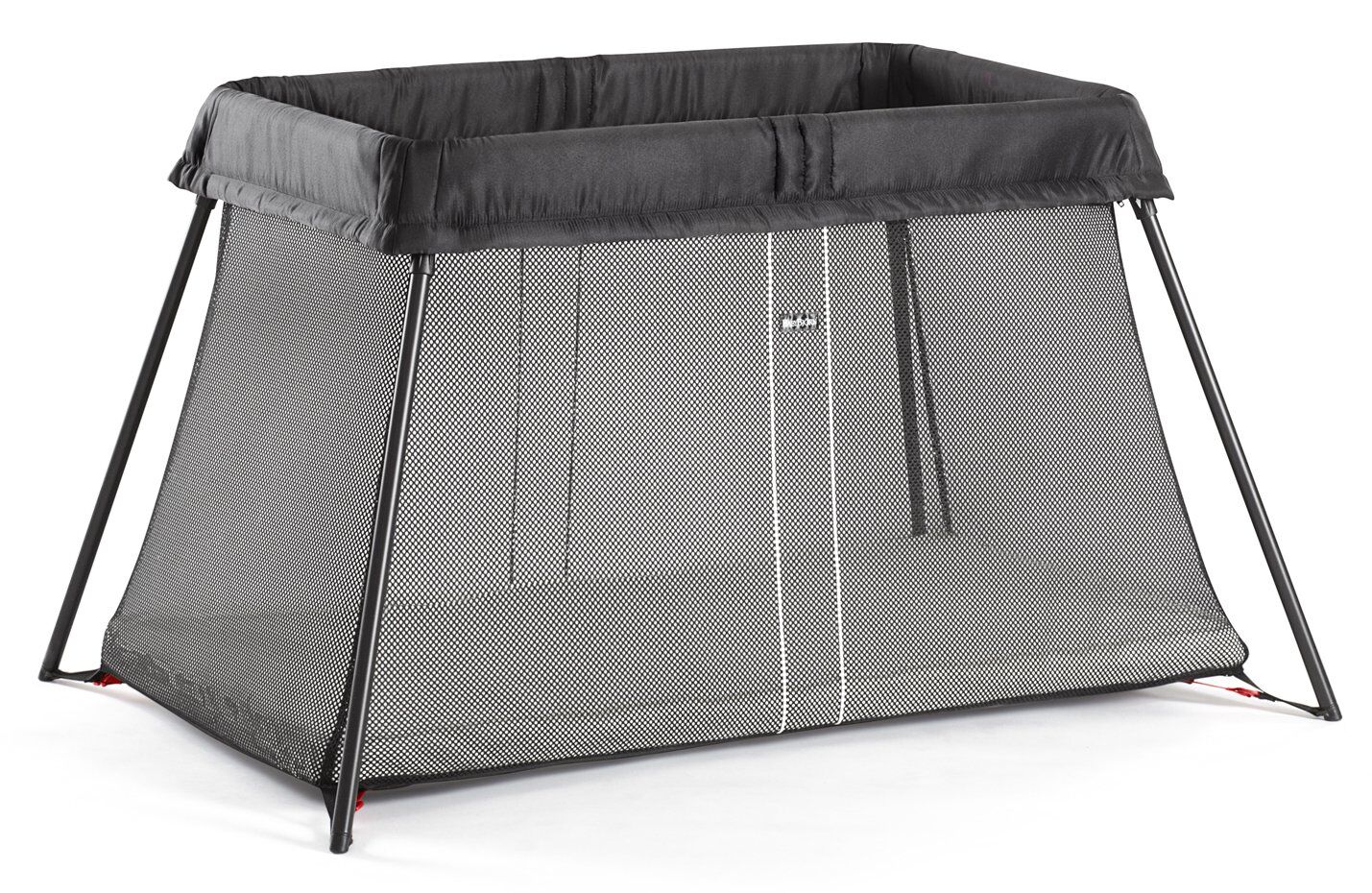 The BabyBjörn Travel Crib is the best play yard for traveling with babies. It weighs 13 pounds, and it can be easily organized and compacted into a small cubic case, making the transition from vehicles to hotels stress-free. It has a comfy mattress so it can be a familiar place for babies to play and sleep in. All fabrics of the item meet the requirement of OEKO-TEX Standard 100, Class 1 for baby products. It means even if you don't wash it before you start using it, it is safe for your baby's skin and safe to taste. Cleaning is also easy. All textiles are removable and machine washable. However, it is not friendly for shorter parents to pick up their sleeping babies.
Guava Lotus Travel Crib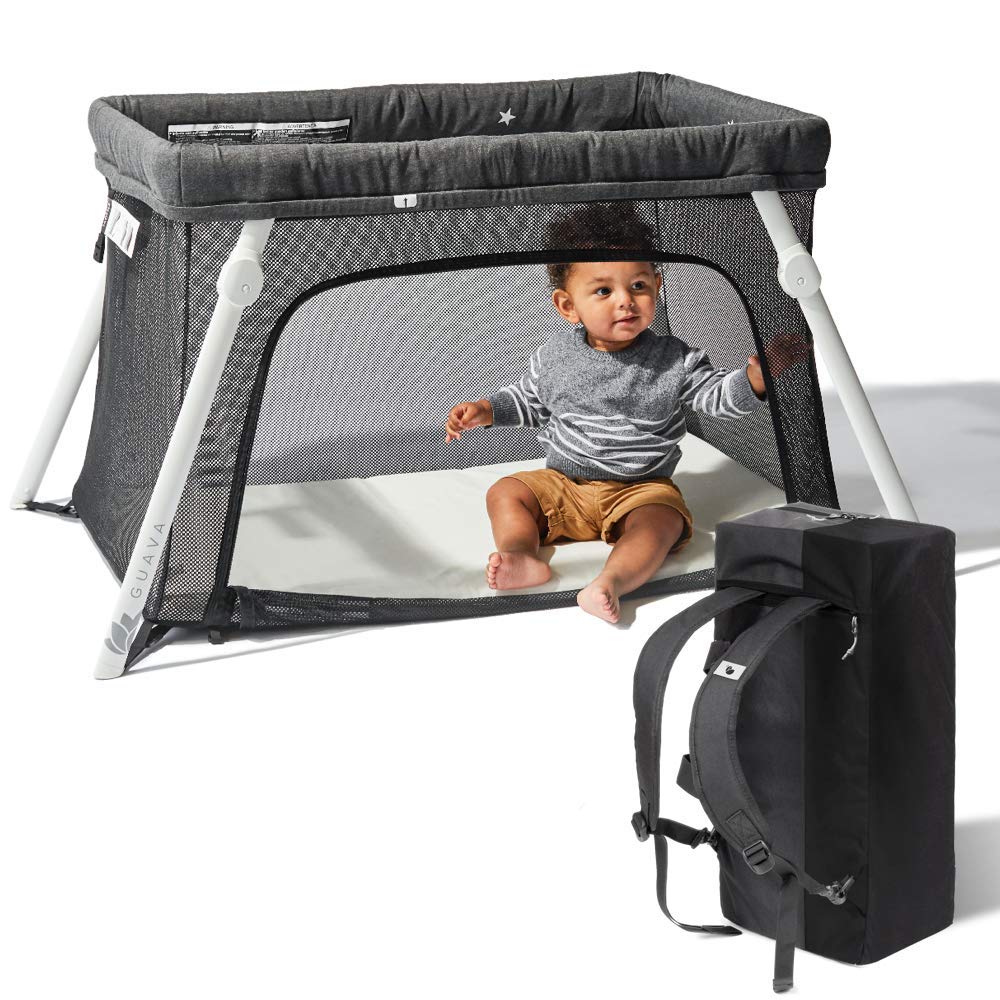 Do You Need a Pack n play?
Though many baby essential lists do not include a play yard a play yard is an ideal place to contain babies. It separates the little ones from the uncovered electrical outlets and prevents them from falling over and injuring themselves in the process of practicing rolling over or sitting up. At the same time, it ensures a safe area for babies to move around. It is also convenient to carry out the play yard to grandparents' homes or take a trip. Some products do double duty as diaper-changing stations, bassinets, and portable cribs, which adds up to their utilities.
What to Consider when Purchasing a Pack n Play?
Safety: Safety is our primary consideration when purchasing any baby product. The product must comply with the latest test protocol. There should not be any existing potential hazards like a slit, sharp edges, etc. on its physical structure, and release of harmful chemicals. As ordinary consumers, it is okay that we know nothing about the profession of test standards. There is a foolish way to avoid the pits which are to pick products from big brands because usually, those big brands spend money on testing.
Function: The play yard has variable features ranging from diaper changing stations, portable cribs, bassinets, etc. You have to consider functions you and your family will benefit from. If you just need a safe space for babies to play, then the simplest one is enough for you. However, if you would like to go camping with it, you may need a canopy to protect your babies from sunburn and mosquitos.
Portability: Some play yards are foldable and lightweight. Some are not foldable but have wheels. If you would like to take it near and far, choose a foldable one.
Safe Tips for Using Pack n Play?
Height and weight limit: Most play yards have weight and height limits. Once your babies exceed the limit, you can take the play yard away.
No bedding: It is the same as the way you use cribs. If the play yard is not sold with a mattress then do not add one unless it is an exact match produced by the manufacturer. The gap between the frame and the pad can cause a safety hazard.
No baby lounger: Do not place the giant pad in the play yard as babies would step on it. Chances are there that they "jailbreak" the safe enclosure and trip down and fall.
Summary
Many parents are hesitating to choose between Guava Lotus Travel Crib and BabyBjörn Travel Crib. You can't go wrong either way. It weighs 11 pounds, slightly lighter than BabyBjörn Travel Crib. Set up and packing process are both easy. The fabrics are claimed to be free of PVC, Lead, Phthalates, Formaldehyde, and Heavy Metals, though not as smooth as the BB one. It can be zipped off and machine washed too. It features a side zipper door to let your baby crawl in and out. You can cuddle or pick them up without leaning over. A lifesaver for those who have back problems.