Your child deserves the best luxury strollers. Caring for a baby is hard, but some things are made to make it easier. One of them is a stroller. Buying a stroller will make traveling with your baby easier and more comfortable. These high-end strollers are easy to maneuver and contain the capacity for baby necessities. So many strollers are available that it's easy to feel overwhelmed.
Size, aesthetics, durability, practicality, and quality matter when selecting a stroller. If you're unsure what to buy your kid, look no further. We listed the best luxury strollers for you.
Our Top Pick
Best luxury stroller for toddlers: Bugaboo Fox 3 Complete Stroller. $1,828.00.
Best lightweight stroller for kids: Babyzen YOYO2 Stroller. $529.98.
Best easy-to-adjust stroller for your little ones: Thule Urban Glide 2 Jogging Stroller. $749.95
Best wear-resistant toddler's stroller: Hot Mom Baby Stroller. $599.00.
Best comfy kid stroller: CYBEX Gazelle S Stroller. $899.99.
Best affordable toddler stroller: Evenflo Pivot Vizor. $345.99.
Best flexible stroller for toddlers: Stokke Xplory X. $1,199.00.
Best versatile kid's stroller: BOB Gear Revolution. $549.99.
Best Luxury Strollers Product Review
Here are 11 of the most luxurious strollers on the market:
Bugaboo Fox 3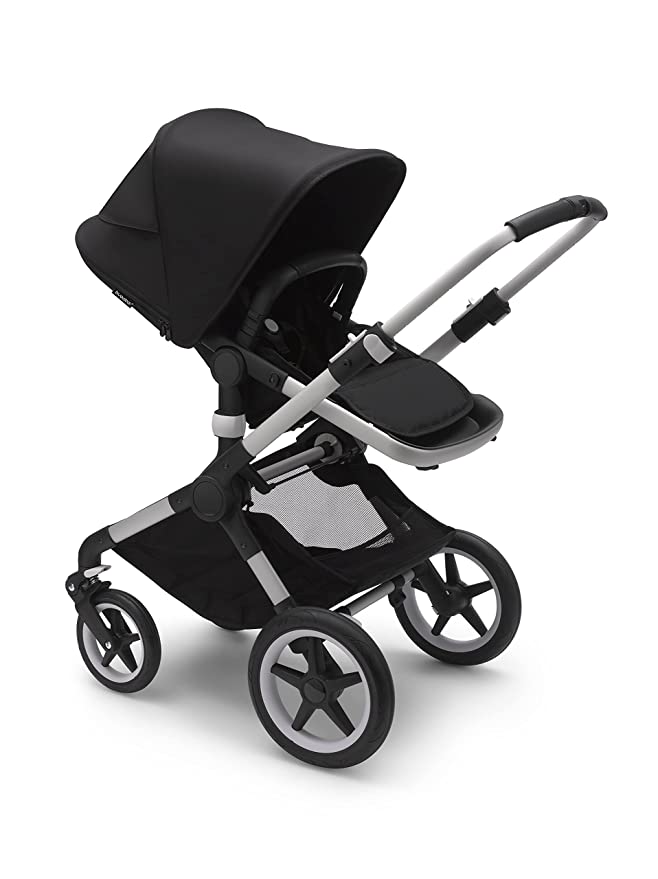 Age Suitability: 0 to 48 months| Seat Height: 59 cm | Item Weight: 43 lbs | Max Child Weight: 22 lbs
Bugaboo Fox 3 is a nice all-terrain stroller. This stroller's all-terrain wheels and suspension make it easy to navigate, along with a high-performance mattress and 3D mesh bassinet. As you'd expect from a luxury stroller, it collapses into one piece and features a self-standing option.
The Bugaboo Fox has been known for a long time as the Rolls-Royce of strollers, and its latest update promises the same modern design in a lighter package. Bugaboo's main goals for this stroller were to make it easier to push, feel better, and be better all around and to give it the right amount of resistance so it can go over a wide range of terrains with ease.
The metal frame can stand on its own so that it can be folded up into a small space. It can also be folded up with the carrycot or main seat still attached. It also has a few different ways to set it up, so the baby can be facing you or forward.
CYBEX Gazelle S Stroller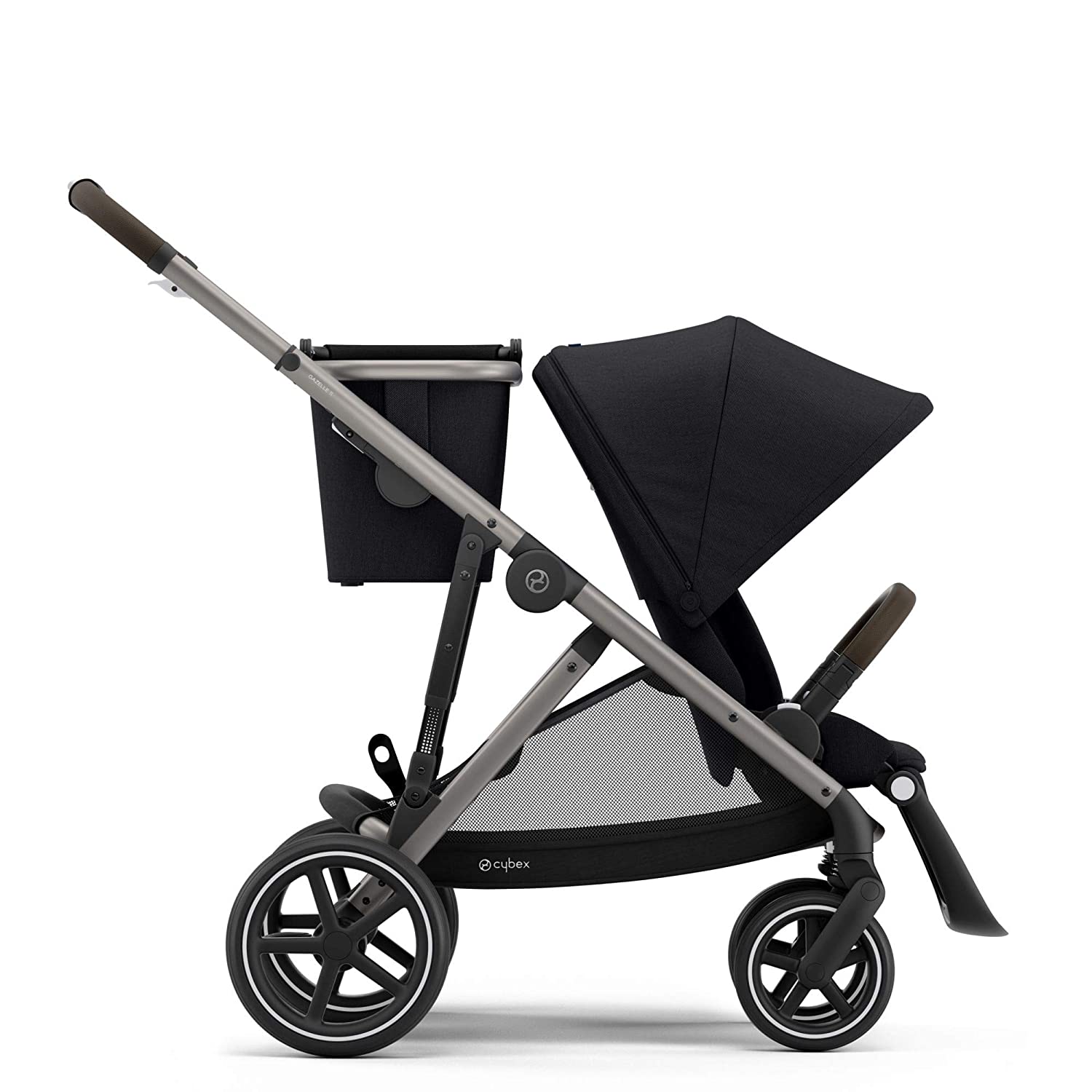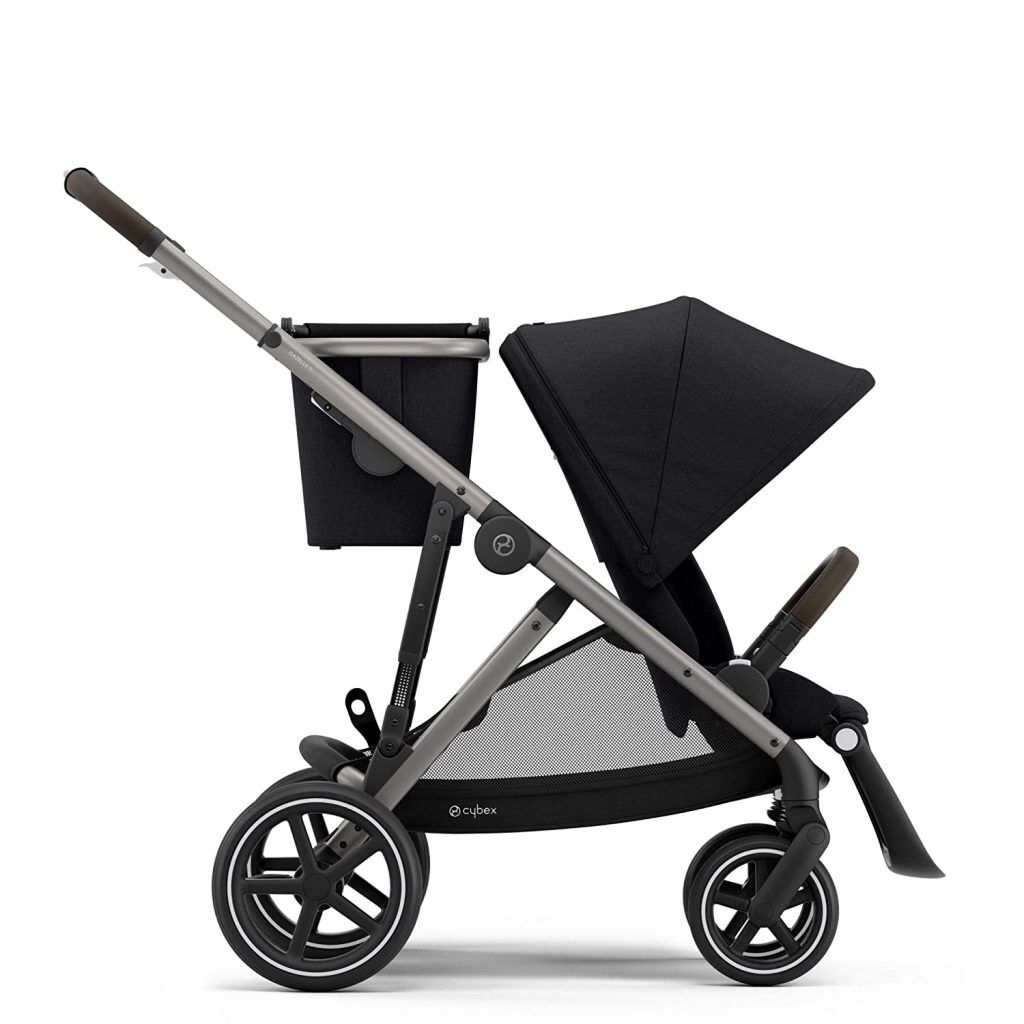 Age Suitability: 0 to 4 years old| Seat Height: 46 cm | Item Weight: 25.2 lbs | Max Child Weight: 50 lbs
If you're looking for a sleek and functional double stroller, the Cybex Gazelle S stroller modular is an excellent option. They may be turned so that you face either forward or backward. Adjusting the seat's height is also possible.
The metal frame can stand on its own so that it can be folded up into a small space. It can also be folded up with the carrycot or main seat still attached. It also has a few different ways to set it up, so the baby can be facing you or forward.
It's not too hard to change the Gazelle S from a single stroller to a double stroller. It can be set up in a lot of different ways, including with the baby and later the younger sibling on top, closer to the parent.
Stokke Xplory X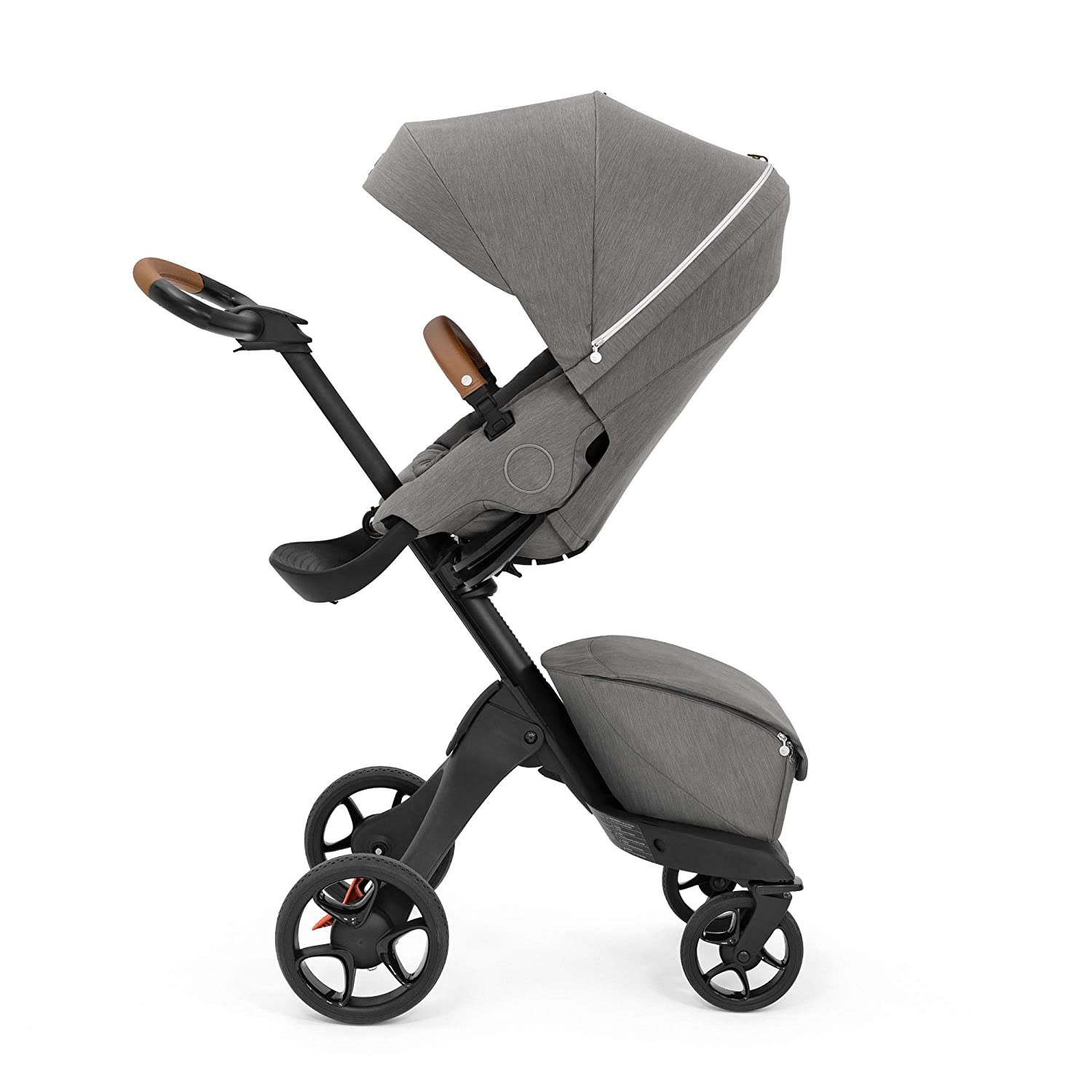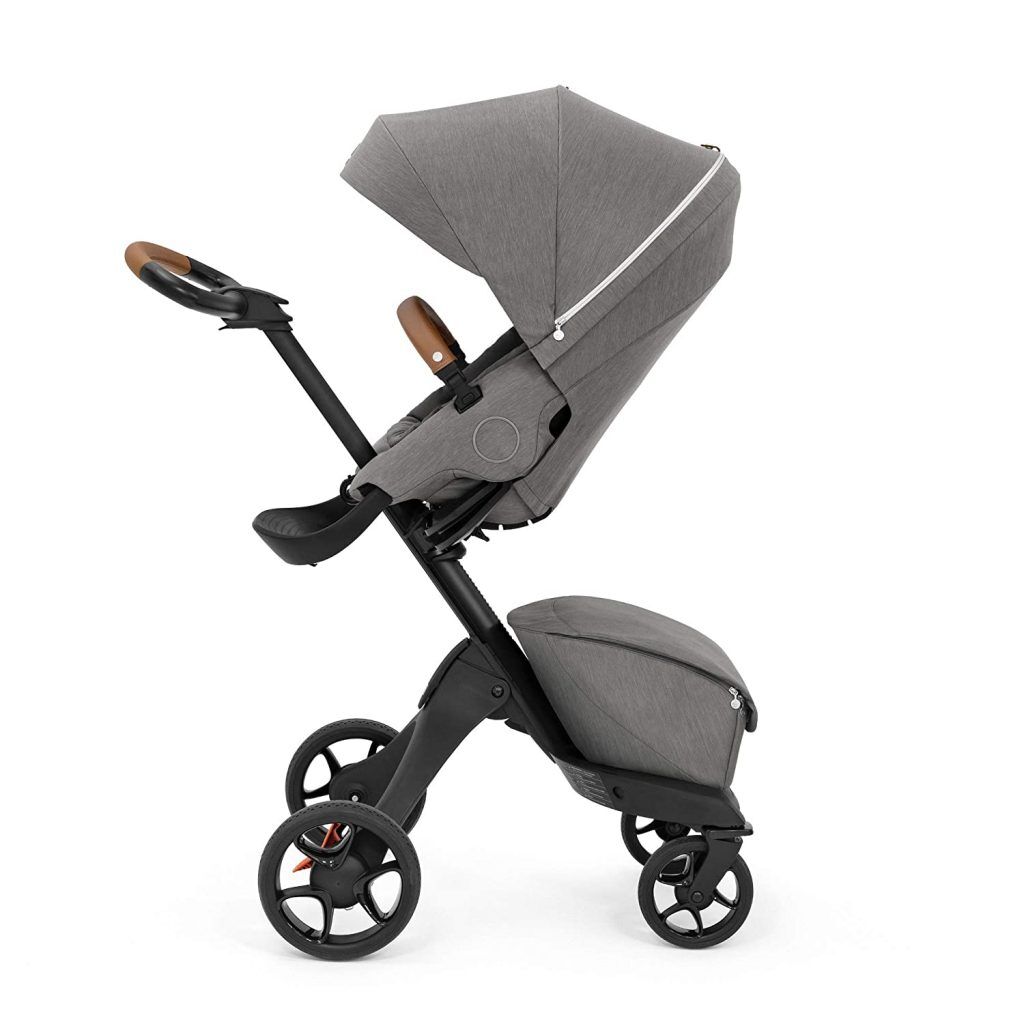 Age Suitability: 0 to 6 months | Seat Height: 46 cm | Item Weight: 29.5 lbs | Max Child Weight: 45 lbs/ 22 kgs
The Stokke stroller has a unique function that allows the infant to face both the outside world and their parents. Parents shouldn't give up elegance, safety, or the capacity to navigate any terrain when using a stroller smoothly, according to the designers of the stroller. The Stokke strollers can be easily used for babies and little children up to 45 pounds.
One of the things that makes the Xplory X stand out is that it has a handlebar that looks like the moon. Before, the handles were made of plastic, but on the new Xplory X, the handles are made of leatherette. Two things can be done to change the height of the handlebar. Either in terms of the height of the main chassis pillar or the angle.
Stokke seats are well-known for how big and comfortable they are for kids. The Xplory X seat lifts the baby up and gives them the coziest place to sit. It's hard to describe how comfortable this seat unit is without saying that it looked so cozy that we wanted to jump in ourselves. The materials are very nice, and the buckle is easy to use. The details on the fabrics and seat unit show how well-made the stroller is. The extendable panel on the hood gives great coverage, and it also has a great ventilation panel.
BOB Gear Revolution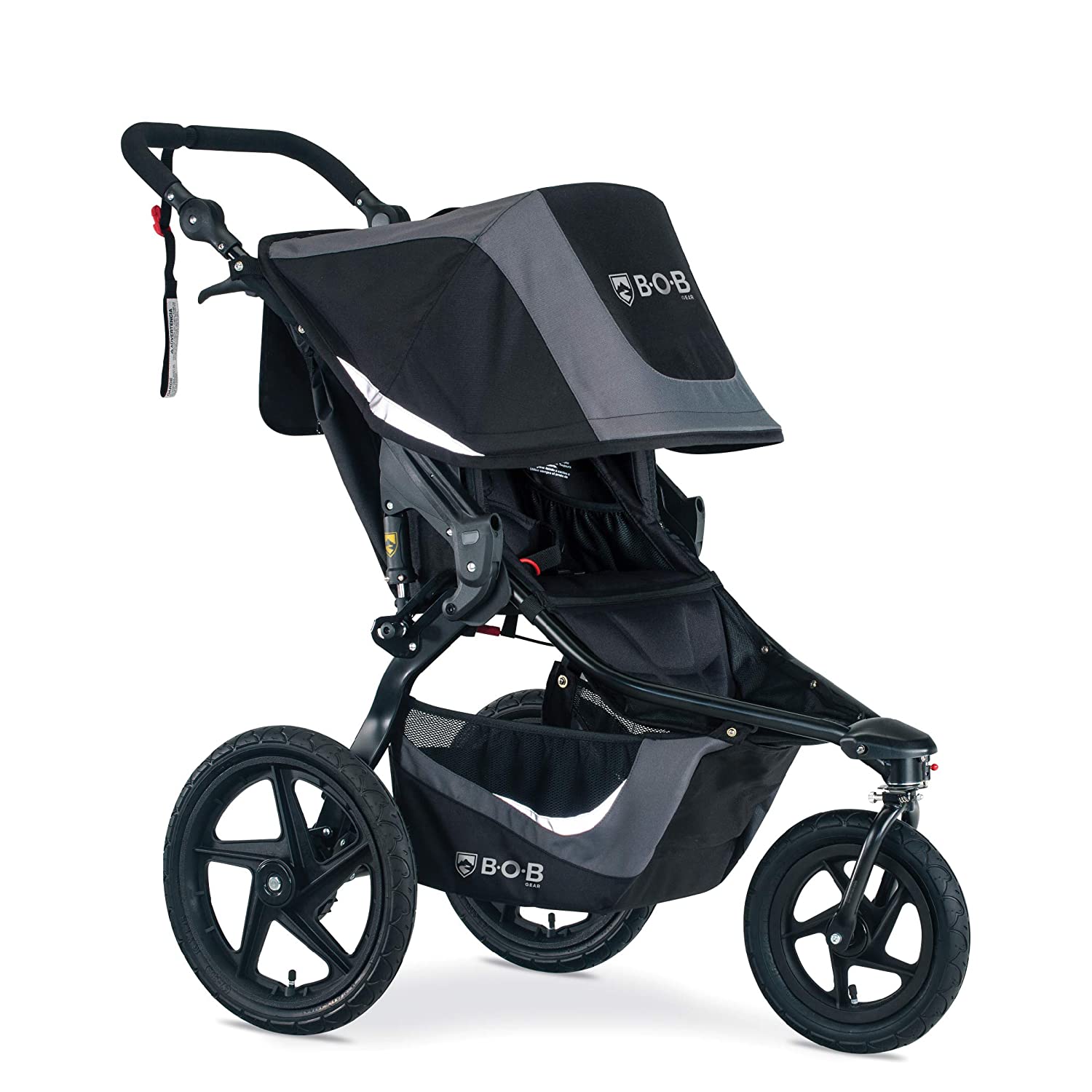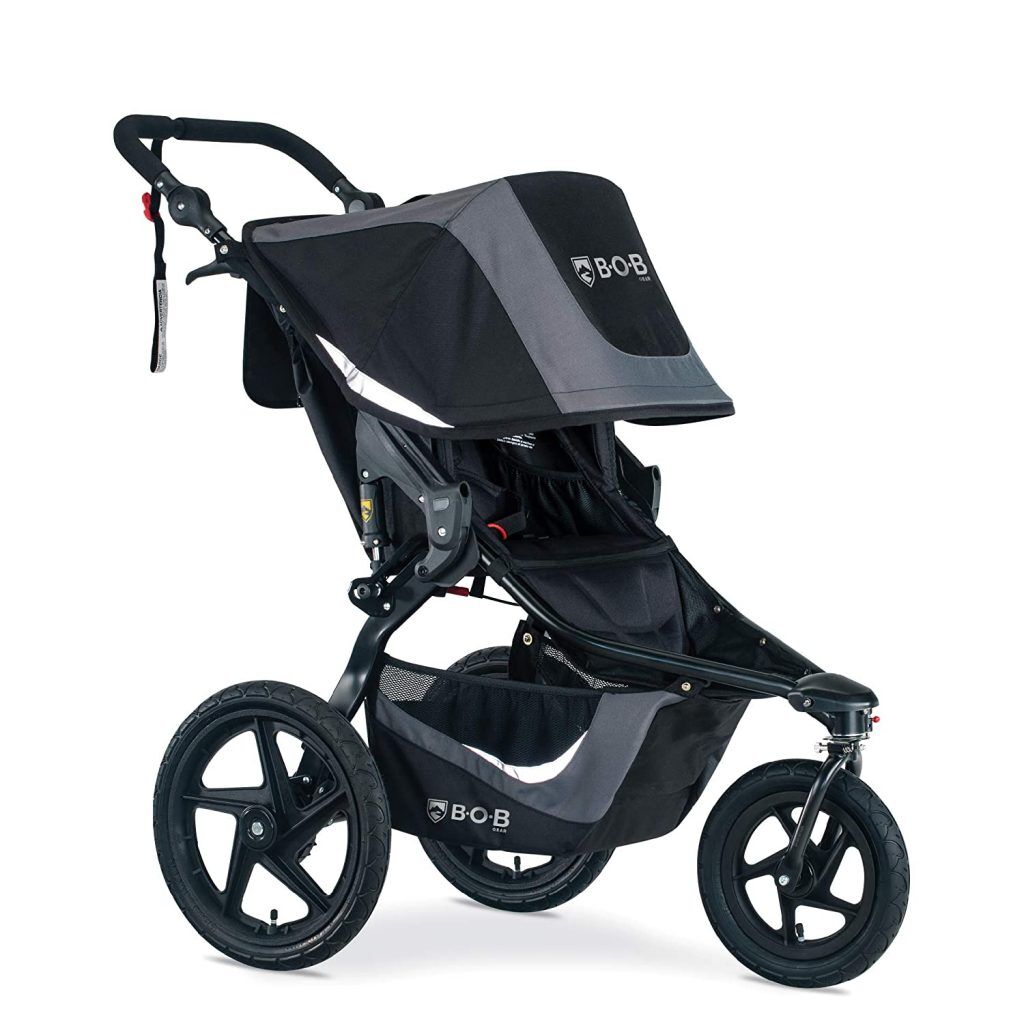 Age Suitability: 8 weeks old and up | Seat Height: 44 cm | Item Weight: 28.5 lbs | Max child weight: 75 lbs/5 kg
BOB Gear's stroller makes long trips easy and pleasant. It has an ergonomic handlebar and easy-to-maneuver tires. Tires with a suspension system reduce bumpy rides and road accidents. The frame is made of sturdy aluminum. Its all-black design looks sophisticated, blends everywhere, and the seat is padded, upright, and one-handed adjustable. The integrated shade or canopy protects without blocking the breeze. This stroller can hold 75 pounds and has ample seating.
This stroller can be folded with two hands and has four steps. With two release levers and a rear pull loop, folding is easy. It is locked with a strap and doesn't stand up on its own. Not carrying a handle makes it harder to lift and move. There are also two steps to folding.
It has brakes with a single action and a plastic pedal in the middle near the rear axle. The brakes are easy to use and move in a way that is good for your feet. It has a big storage bin with pockets on the back to make it easier to keep things in order. It had enough room for our big diaper bag and could hold up to 10 pounds.
Baby Stroller 360 Degree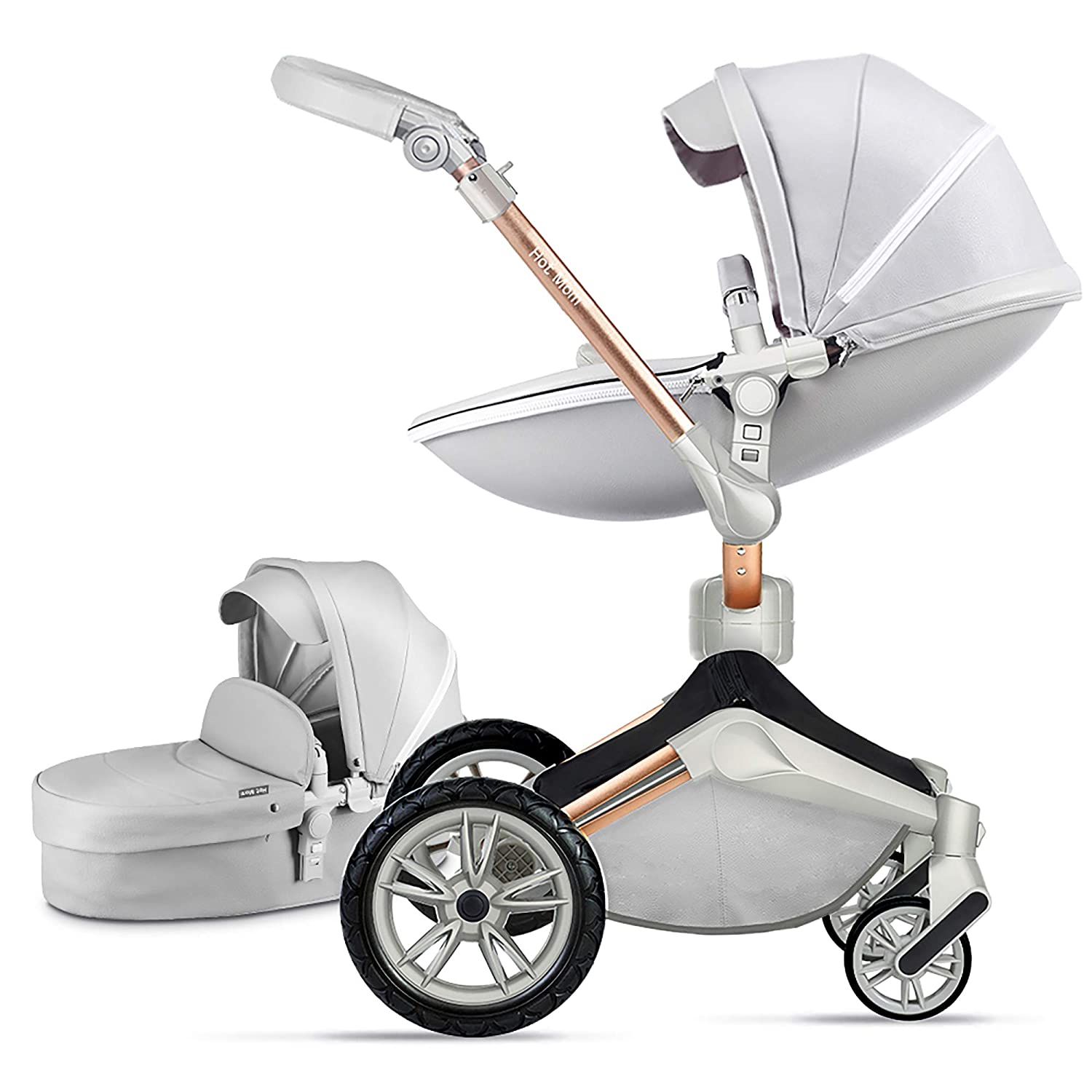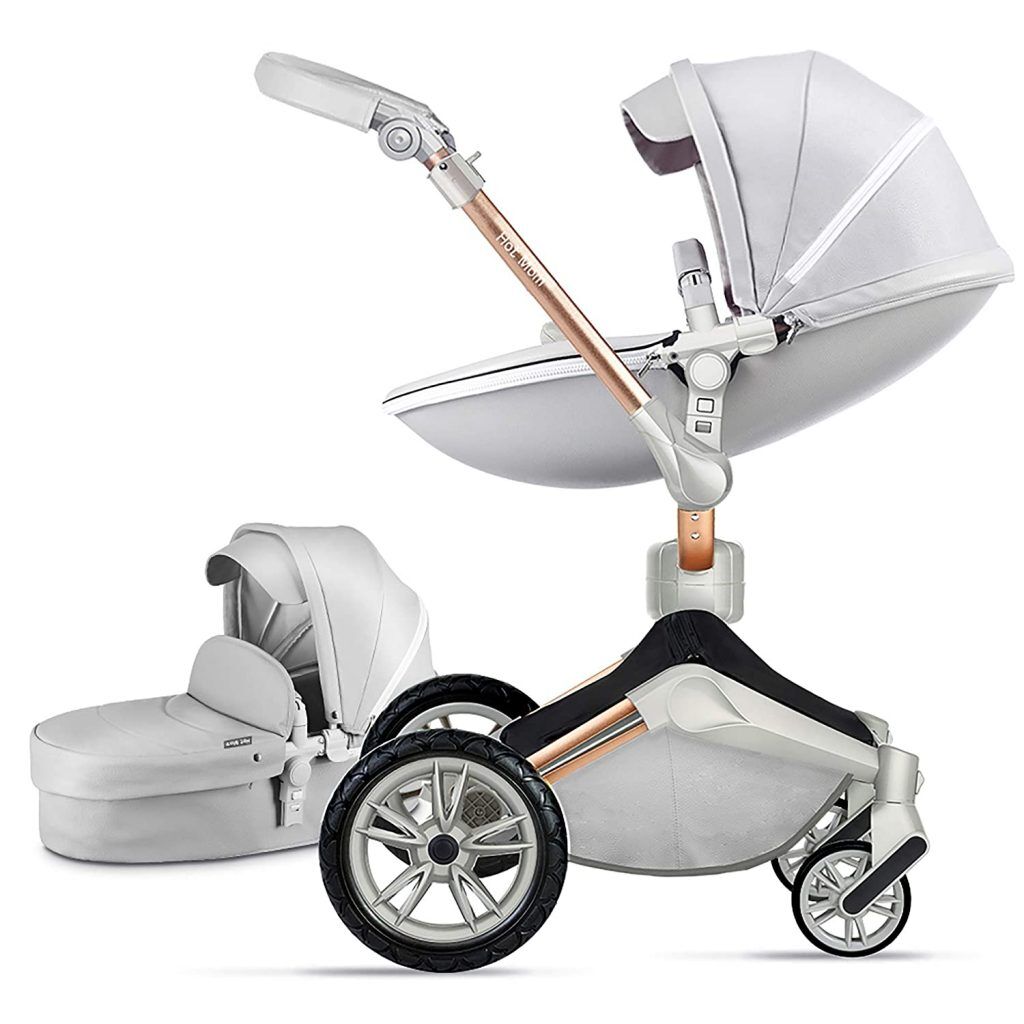 Age Suitability: 6 months – 4 years | Seat Height: 44 cm | Item Weight: 40.7 lbs | Max Child Weight: 35 lbs
This stroller has PU leather, an egg-shaped seat, and gorgeous color. The sun canopy shields your child from the elements. This stroller's top can rotate 360 degrees while the wheels remain still. Baby strollers have bassinets for the first several months. When your child is ready, switch to the fully reclining, five-point harness seat.
It has a large storage tray basket where you can keep your baby's necessities. The storage is easy to get to and is at the bottom of the stroller. It also has a carry bag where the baby's or mother's important things can be kept.
The stroller is made of stylish, waterproof PU leather that meets all safety standards. The material is easy to clean and can be wiped clean with water. It can also stand up to dirt, wind, and snow.
The stroller's back wheels are made to stay in good shape. These big tires are made of high-quality rubber and can't explode or get holes, so they don't need to be inflated. Also, the front wheels don't slip and don't wear out, and they have high-quality shock absorbers for a smooth ride.
Hot Mom Baby Stroller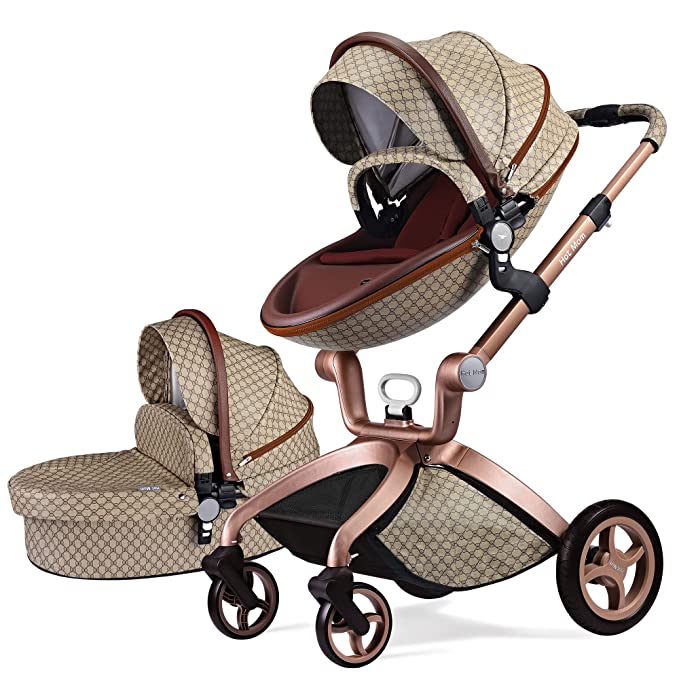 Age Suitability: 6 months – 4 years | Seat Height: 87 cm from the ground | Item Weight: 46.2 lbs | Max Child Weight: 80 kgs.
Hot Mom Baby Stroller is a top stroller. It's an egg-shaped pusher that's height-adjustable. It's perfect for tall parents and makes navigating crowds and barriers easier. This stroller fits all babies. It can hold 10 to 40 lbs.
The stroller also has an extendable UPF 50+ sunshade that prevents UV rays from hurting your baby's skin. It even has a retractable canopy to keep rain and wind out of their faces while they sleep.
The hot mom stroller has an attachment for a bassinet for babies. Just put it on instead of the front seat to give them more space and protection. And when they are able to sit up on their own? You can move to the back seat without a problem.
The Hot Mom is stable on rough terrain thanks to its wide wheelbase and big wheels so that it can be used on more than just sidewalks.
It can be folded down to fit in most cars, but the frame isn't as sturdy as some other models. That means there might be a little more "give" if you try to get the stroller through a tight space without first fully opening it.
UPPAbaby VISTA V2 Stroller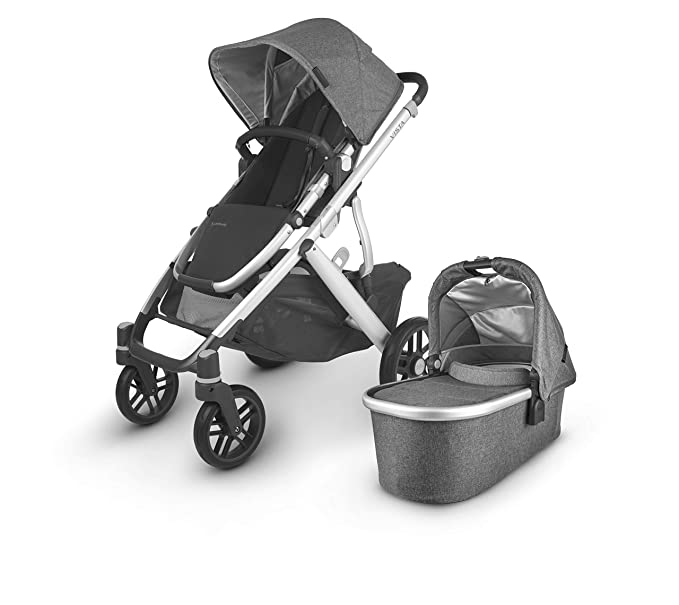 Age Suitability: 0 to 4 years | Seat Height: 40 cm | Item Weight: 27 pounds | Max Child Weight: 30 pounds
UPPAbaby Vista V2 is a luxury stroller that is safe and comfortable. The stroller has an adjustable padded seat, parent tray, and mesh-screened canopy with bassinet and storage space. Four-wheel brakes and a lockable front swivel wheel are included. It folds easily, so it's portable.
The leather-wrapped handlebar is protected from damage by a hard plastic bump that sits on the floor. It doesn't have a handle or strap, which is a shame given its size. To unfold, you need two hands, but neither step is hard.
The brake pedals are in the right place and easy to set or release no matter what shoes you wear. Press it once to set it, and press it again to take it off.
This big bin is easy to get to from most sides and can hold almost everything you need for a day out with kids. There are pockets inside the bin to help keep things in order.
Zippered extension and peek-a-boo windows that stay in place without closures make the Vista v2 canopy one of the largest available.
Babyzen YOYO2 Stroller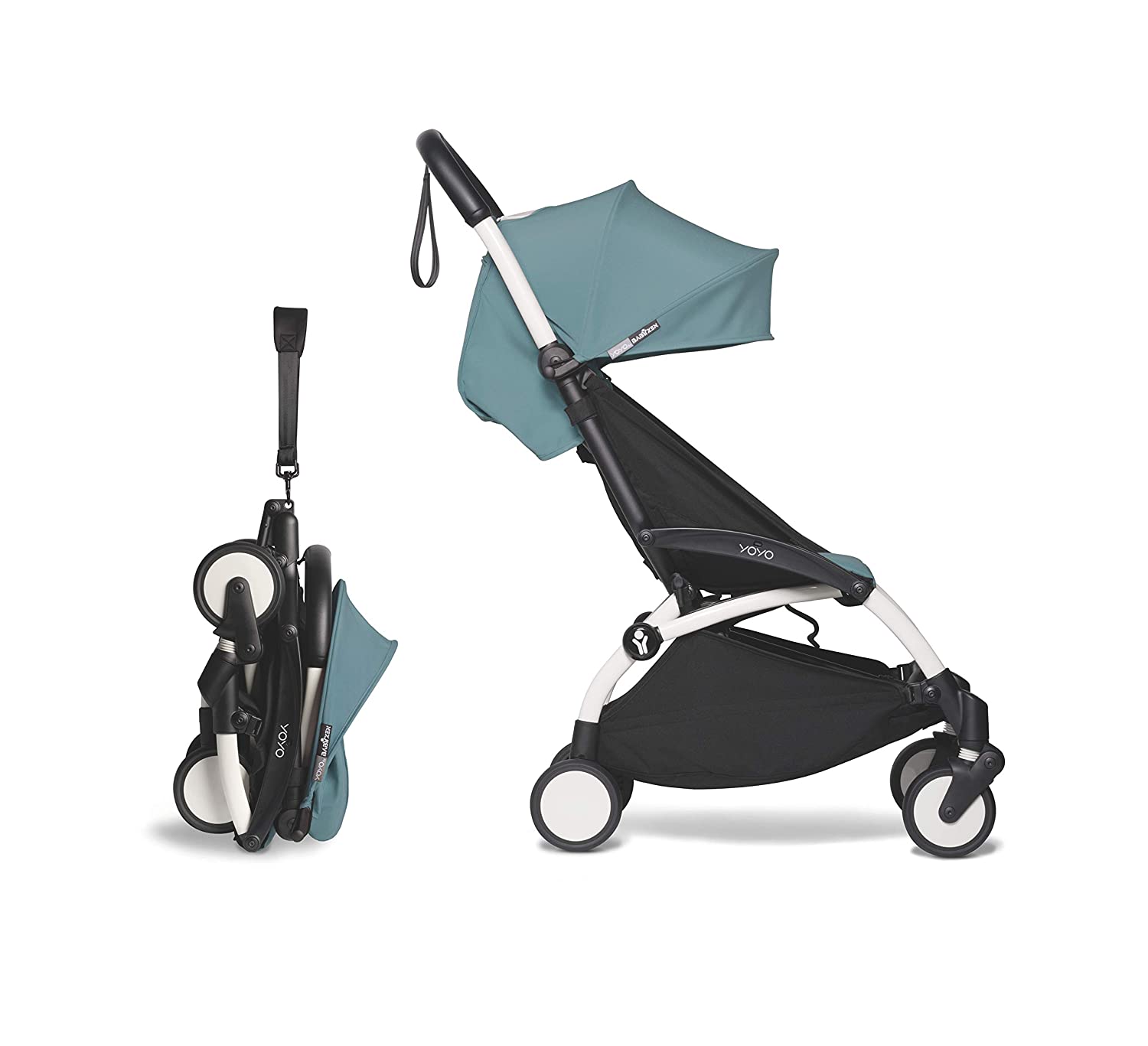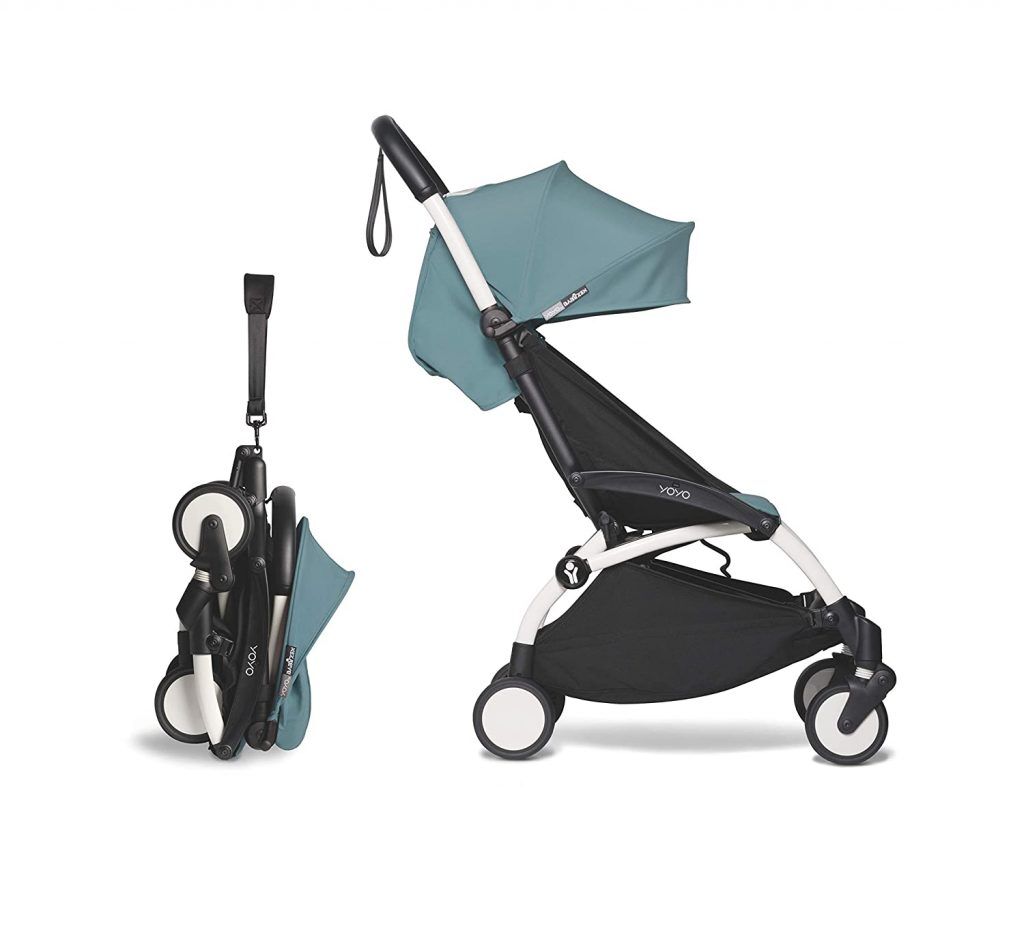 Age Suitability: 6 months to 5 years| Seat Height: | Item Weight: 16.96 lbs. | Max Child Weight: 40 lbs.
The latest version of Babyzen's YOYO is just as light, small, and quick as the ones that came before it. However, some improvements have been made to the wheel suspension, buggy safety harness, handlebar finish, and maximum weight limit. The YOYO2 is a modern stroller that can be used from birth and will work well for city families. However, it is not made for more challenging terrains.
Numerous elements go into calculating the total score for our usability metric. Foldability and storage capability are the two most essential factors in our evaluation process. The following table compares each stroller in greater depth in order to provide a clearer picture of how the various models stack up in terms of ease of use.
The brake pedal is a little red tab located on the right side of the vehicle. One pedal locks both wheels with a single action. It is possible to set the pedal even if it is small in size. No brake-related accidents during testing, and there was no play in the brakes.
Evenflo Pivot Vizor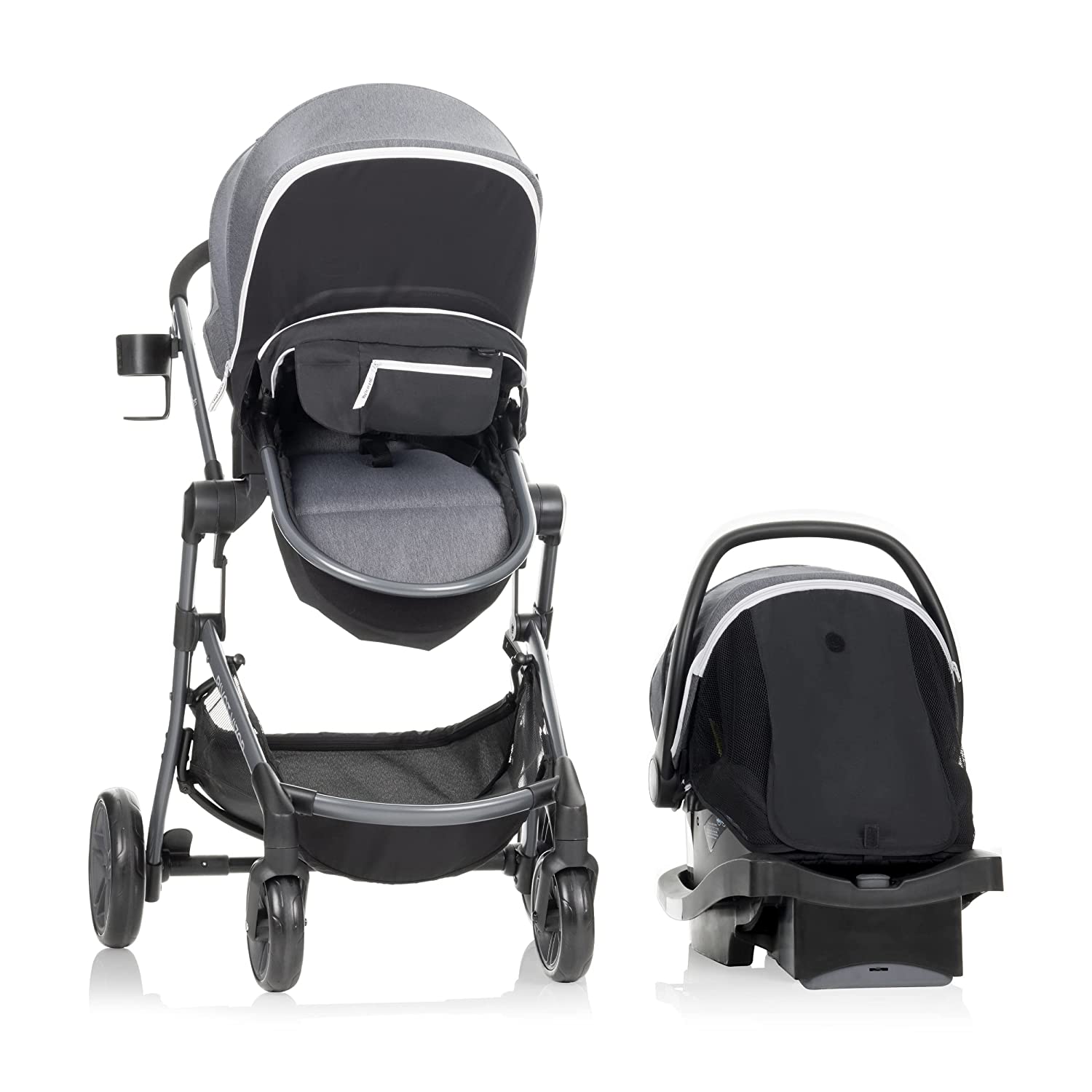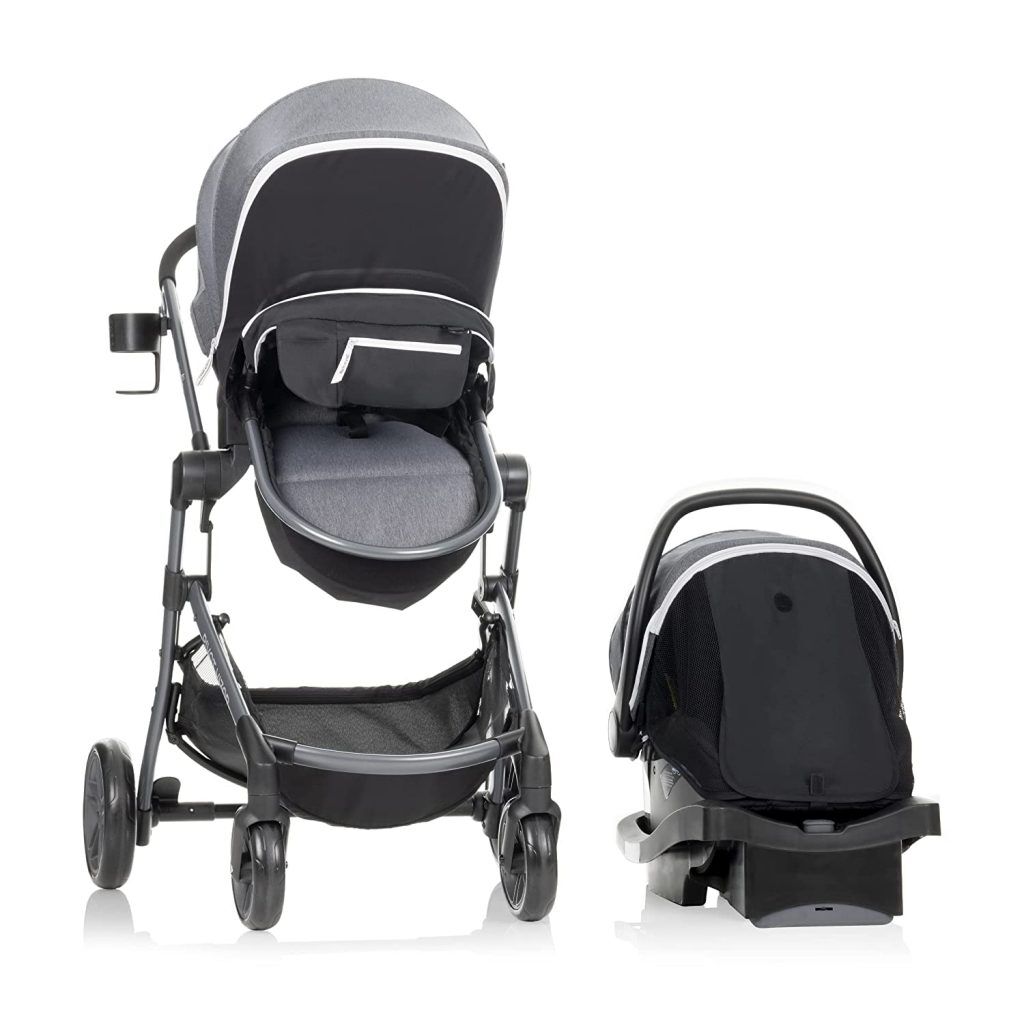 Age Suitability: 0 to 4 years old| Seat Height: 96 cm | Item Weight: 38 lbs.| Max Child Weight: 50 lbs
Evenflo Pivot Vizoe is a stroller and car seat combo. It comes with a SafeZone Base with an anti-rebound bar and SafeMax Rear-Facing Infant Car Set. This car seat and stroller combo have a 6-mode modular frame. The stroller converts easily from an infant car seat frame to a stroller seat or carriage mode.
The car seat is easy to put on the base of the car. And parents can move the car seat from the base to the stroller frame with just one click.
If you want to walk with the car seat facing forward or backward, you just snap it into the frame. You don't need an adapter, which is great because you can move the baby quickly from the car to the stroller without waking them up. It's helpful when you need to go to the store or run a few quick errands in the city.
There is a 5-point harness that can be changed to keep the baby safe while riding. The seat can also be turned around. The baby can ride with his or her back to the world and watch what's happening around them. We don't have to worry about not being able to see the baby because the canopy has a big peek-a-boo window.
Baby Trend Expedition 2-in-1 Stroller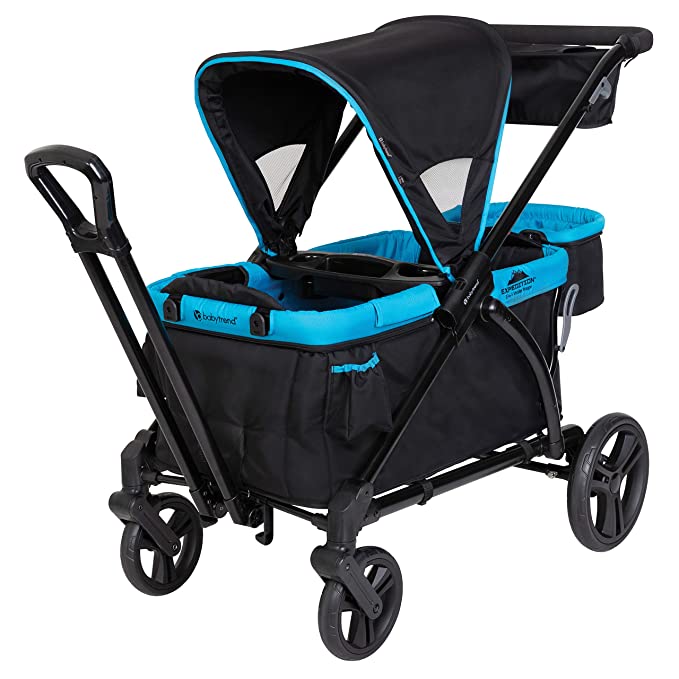 Age Suitability: 6 months to 4 years| Item Weight: 42 lbs. | Max child weight: 50 lbs.
Baby Trend's stroller draw handle is a striking feature. This makes the stroller a pull wagon. A child can lie down in the stroller's seat. The stroller has a cushion that converts into a lie-down mat. The aluminum frame is well-padded for comfort. The 3-point harness belt secures your infant—extra-large canopy with UP 50+ protection and well-ventilated mosquito netting.
Extra-large canopy with UPF 50+ and air-flow mosquito netting protects your children from the sun's harmful rays. Parent and kid trays with two cup holders each, center consoles, and two extra cup holders outside the wagon are all included in the Ultimate Storage Solutions, which are sure to please parents.
Easy one-button replaceable 11″ rear wheels and 8″ front wheels make the Baby Trend Expedition® 2-in-1 Stroller Wagon easy to manage. Parents may effortlessly convert their "Push" stroller into a "Pull" wagon using the Hideaway Pull Handle. The wagon folds flat for easy storage and transportation.
Thule Urban Glide 2 Jogging Stroller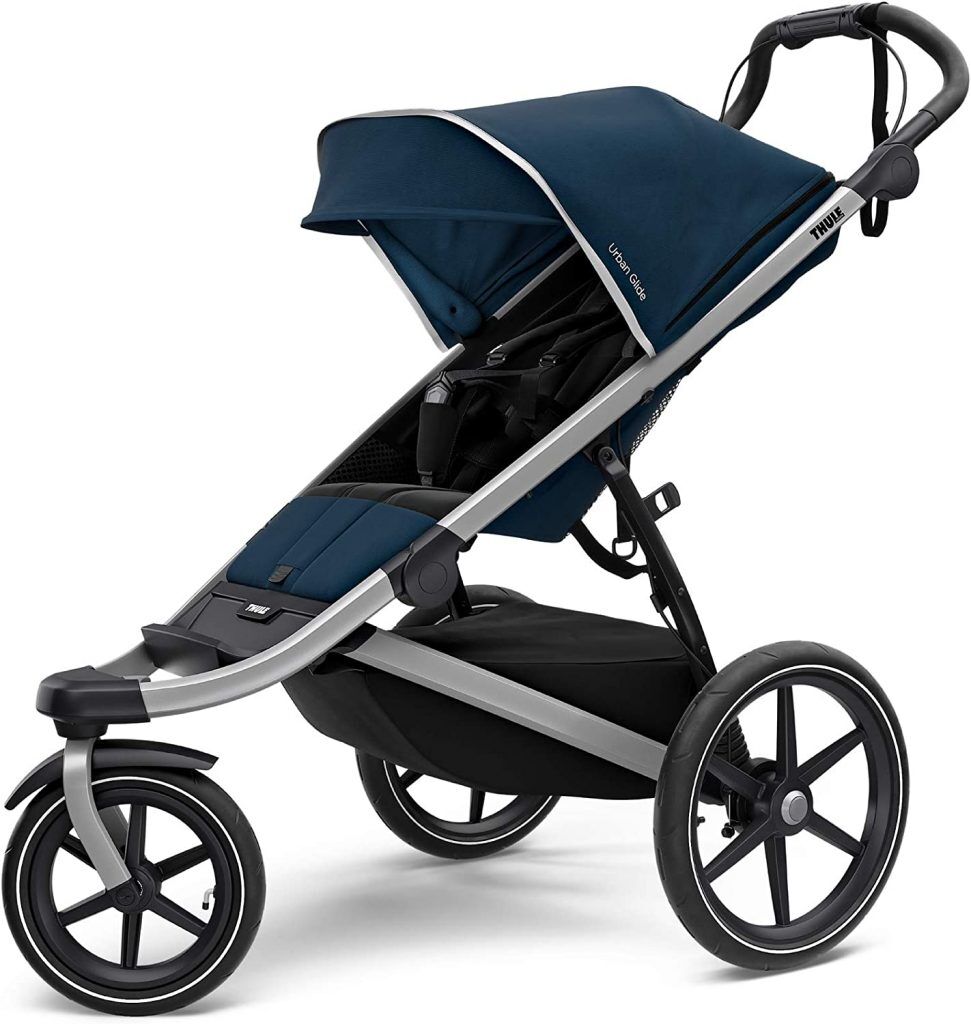 Age Suitability: 6 months to 5 years| Seat height: 21 in | Item Weight: 32.6 lbs. |Max Child Weight: 75 lbs.
Thule Urban Glide 2 is a beautiful, practical running stroller. This stroller combines jogger benefits in a smaller package. Lightweight and maneuverable. The seat has a huge basket for storing items, and the aluminum-and-plastic stroller weighs 14 pounds. It has swivel wheels for easy navigation on rough surfaces and folds for transport.
Thule is one of the most easy-to-run-with strollers we've tested in a market full of great strollers like the Bob Revolution Flex 3.0. On average, the swivel wheel options (with the wheel locked) were better for running than the fixed-wheel strollers, which serious runners have always thought were the best.
The front wheel of this stroller can be locked in place, and the tracking can be changed with large knobs that are easy to use. This stroller has air-filled rubber tires that roll straight and can be easily steered along a trail. We had a little play in the front wheel, but the stroller doesn't wander. The play made it, so we didn't have to tip the stroller backward as much to turn, and our professional runner says it's "very runnable."
How to Choose a Luxury Stroller
Below are the factors you need to consider when choosing the best luxury strollers for your baby.
Materials
Premium materials are what set apart a luxury stroller. Most luxury strollers use an aluminum frame with additional padding and PU leather for a plush appearance. A stroller's construction materials must be taken into account. To put it another way, their quality, warmth, and longevity are all directly affected. So you must inspect the materials utilized to construct the stroller you're interested in before making a purchase.
Fit and Size
Because it must fit in your car's trunk, the dimensions of a baby stroller should be considered. Make sure to compare the size of the stroller to the trunk of your vehicle before purchasing one. When the stroller is opened and folded, its dimensions should be considered. Using a stroller and car seat together also needs to be done for the car seats.
Harness Type
An increasingly common element of strollers is a five-point safety harness. When it comes to stroller safety, these are a must-have. A total of four straps are utilized: two crosses over the shoulders and two crosses over the hips. Consider a stroller that secures your child's legs and hips with a three-point harness. Small strollers, such as umbrella strollers, commonly feature this design.
Sun Canopy
A solar canopy will shield your child from the elements, no matter where you reside. It doesn't matter if it's hot or raining, it is a must feature you should look for. Some strollers have a canopy that barely covers your baby's belly when fully extended. Some strollers can protect them from head-to-toe. It's best to go for a larger one and check if accessories like rain coverings and mosquito nets are included.
Reclining Seat
If you intend to use the stroller with your newborn, ensure that the backrest can be adjusted. Infants' necks are too weak to support their heads. They'll need a little more help. Bassinet or totally reclined seats for a baby are available in many luxury models.
The Breaks
In terms of safety, the brakes are of utmost importance. Test the ease with which the brakes engage and disengage before you swipe your credit card. You may accidentally use the brakes on some poorly built strollers while you're out and about.
Consider their strength, as well. Give the stroller a slight push after putting the brake on. How fast is it going, or are the wheels stationary?
Types of Tires
There is a direct correlation between the ride quality and the quality of the tires. In the world of high-end strollers, vinyl tires are not the norm. Rubber and soft suspensions are becoming common.
Look for rubber tires on the stroller you intend to purchase. Walking on an uneven sidewalk or through a park can be difficult if you have plastic tires, which aren't designed for lumpy surfaces. It is easier to go over different terrains with rubber tires filled with air than solid wheels.
Storage Capacity
Putting bags that carry your child's accessories in the handle is not recommended as it may cause the stroller to tilt back. It is best to look for a stroller with lots of storage onboard. Not all parents are concerned with storage, but if you need to carry more than one child and need to run errands, it is best to choose with enough storage.
Lifestyle
Choose a stroller that is appropriate for your normal daily routine. In case you're accustomed to walking or taking a cab in the city, a lightweight buggy can be an option for you. Some of these are single strollers, such as the umbrella stroller.
Running strollers are ideal for those who enjoy jogging every day or taking walks off the beaten path. Handbrakes and huge grips are included as well as the extra-sized wheels, making these an excellent choice for rougher terrain.
A travel system stroller is an excellent option if you do a lot of driving around with your baby. These include a car seat attached to the stroller's frame. This method allows you to get the infant into and out of the car without waking them up.
The Price
The price of luxury is, indeed, high. Taking into account your financial situation is a good starting point. Choose only those functions that are absolutely necessary.
The cost of options like phone pockets, cup holders, and trays may all add up.
Tips for New Mums and Dads How to Use a Stroller
If you are a first-time mom and dad, using a stroller is something new for you. You have to focus on the safety of your child. Below are some tips you need to remember when using a stroller.
Keep an eye on the stroller at all times. Never leave your baby in the stroller unattended.
Play things should be handled with care. In order to keep your baby entertained while strolling, it is important to ensure that the toys are properly attached to the bumper bar.
Do not speed up. When you bring the stroller to a halt, be sure the brakes are engaged. Strollers should never be left on a slope for long periods.
Buckle up. You should always buckle the harness and seat belt when you take your baby for a stroller ride.
Store things in the right way. Don't hang a bag from the stroller's handlebar. This can cause the stroller to fall over.
Don't let it stay under the sun for too long. Don't leave your baby's stroller in the sun for a long time when it's hot. This can make pieces of plastic and metal get hot enough to burn your baby. Check the stroller's surface temperature before putting your baby in it if you leave it out in the sun.
Be careful when you fold. When you open and close the stroller, keep your baby away from it. Little fingers can get caught in the hinges. Before putting your child in the stroller, ensure it is locked open.
Summary
It might seem easy to find the best luxury strollers, but there are so many choices on the market that it's hard not to feel overwhelmed. Luxury strollers make it easy to move around with your baby and also have room for baby items. Our top pick is the Bugaboo Fox 3, which has durable all-terrain wheels and advanced suspension. An increasingly common element of strollers is a five-point safety harness. Some strollers have a canopy that barely covers your baby's belly when fully extended.
Before buying a stroller, measure your car's trunk. Safety depends on brakes. Choose a stroller for your daily needs. Consider a lightweight buggy if you stroll or use cabs in the city. If you drive with your baby often, consider a travel system stroller.
First-time stroller parents should remember these tips – never leave your baby unsupervised, and always use the stroller's brakes. Always check the stroller's surface temperature. Ensure you keep everything in mind to guarantee your child's safety and a worry-free strolling.